Bedroom Decorating Tips
21st May 2021
The bedroom should be a place of sanctuary and calm, somewhere we can retreat to, to feel relaxed and at ease. It can sometimes feel a bit difficult to make decorating decisions in the bedroom, especially as we learn more about how colours, patterns and décor can affect our mood and our sleep.
Creating a calming and mood-enhancing bedroom does not automatically mean however that it needs to be plain and uninteresting. The key is understanding how to express your own style and personality in a cohesive and balanced way. To help you with your bedroom decorating decisions, we've put together our top tips! Read on to discover everything you need to know, plus inspiration from some gorgeous real customer images!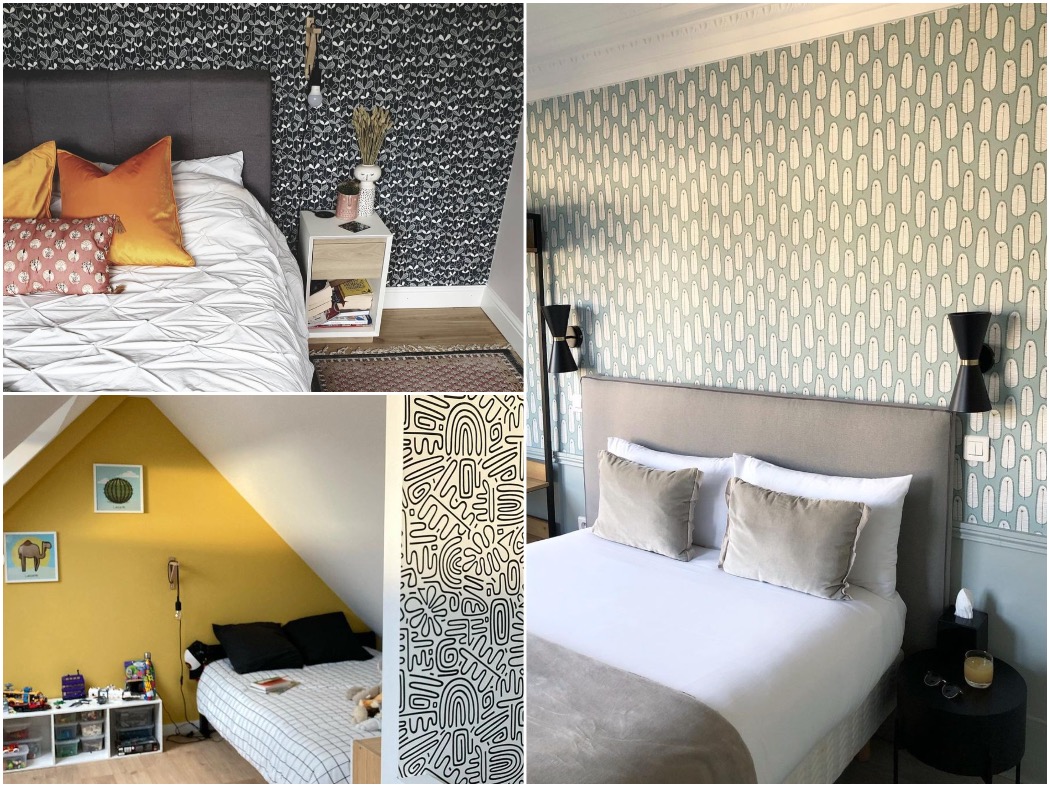 Image credits: Top Left - @makeourhousebigger, Bottom Left - @aquar_elle.peinture, Right - @avama_prony
Step 1: Start by making simple key decisions
It can be overwhelming when trying to select the right wallpaper, colourways and patterns for your bedroom, particularly if you're planning it from scratch! A good starting point is to make some simple key decisions, such as what style, textures and main pieces of furniture you definitely want to include.
Once you've made these decisions, you can use your selections to create a mood board so you can layer in your wallpapers and fabrics to see what fits the room and your taste best.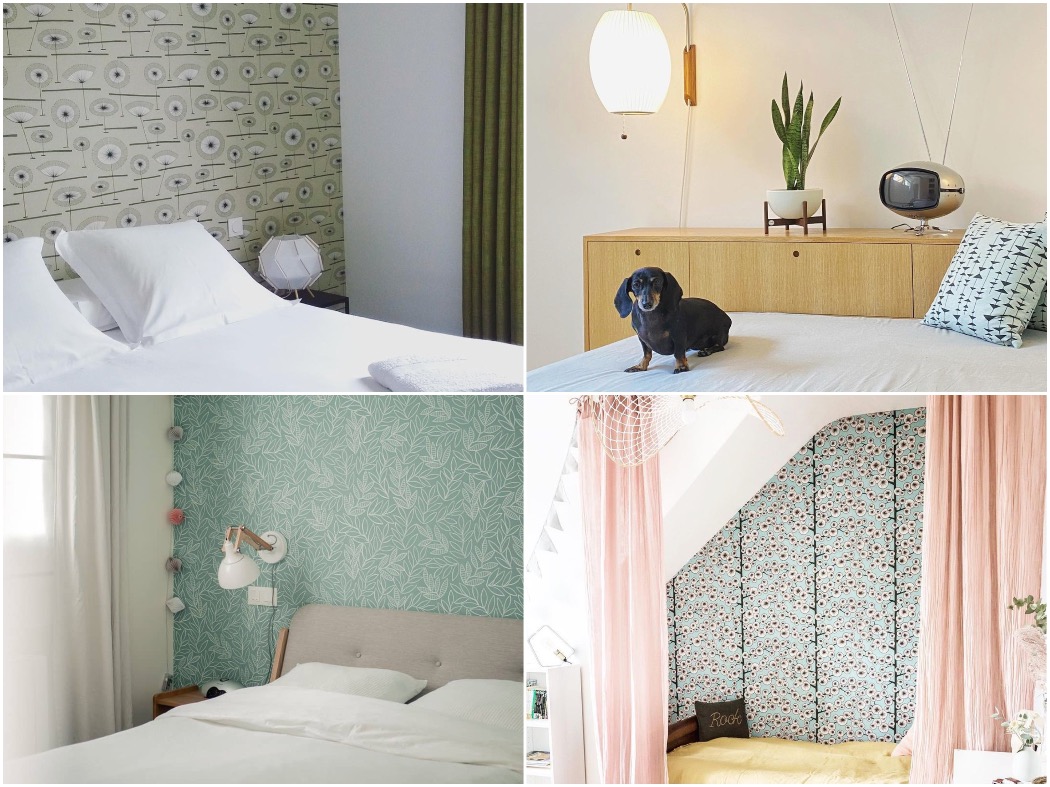 Image Credits: Top Left - @effets_de_matiere, Top Right - @jerrybites, Bottom Left - @e0wine, Bottom Right - @atelierdevergne
Step 2: Think about colour & pattern
Colour and pattern are great at evoking feelings and emotion. They can help you create a space that feels uplifting or to help you unwind, or both! Having a bedroom where you can feel truly relaxed and yourself at the beginning and end of every day can help you quickly switch off from the stresses and strains of daily life.
If you're planning a guest bedroom or a baby's nursery, it's worth considering how you want the room to feel; you want your guests to feel comfortable and welcome and you want your baby to be calm and restful but also perhaps engaged with pattern, so there's lots to consider when planning different bedrooms.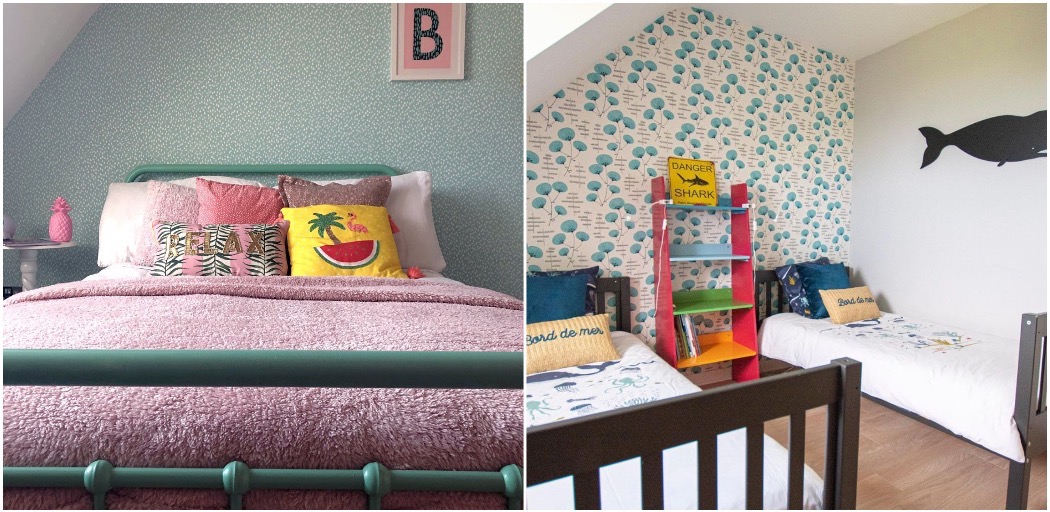 Image Credits: Left - @interiors_by_annie, Right - @villakerle
For your own bedroom, think about the look and feel that can help your personality become more balanced: if you are often worked up and have too much energy, perhaps soft or chalky colours can help settle your mood. They don't have to wishy-washy or bland - think earthy sage greens, china blues, soft greys or stone colours that can be great for creating a sense of calm tranquillity in the bedroom.
Step 3: Wallpaper feature wall or all-over coverage?
Covering all four walls of your bedroom definitely makes an impact and can create a modern contemporary look. Smaller patterns and geometrics work well as do colourful floral patterns. Consider lighter colours if your room is smaller as this will help open up the space; it's really up to you how much of a statement you want to make!
You may find that your room layout or furniture lends itself particularly well to certain feature walls. @aufildescouleurs have used our Song Bird wallpaper as an eye-catching feature within a neat nook above their bed headboard, and it fits perfectly!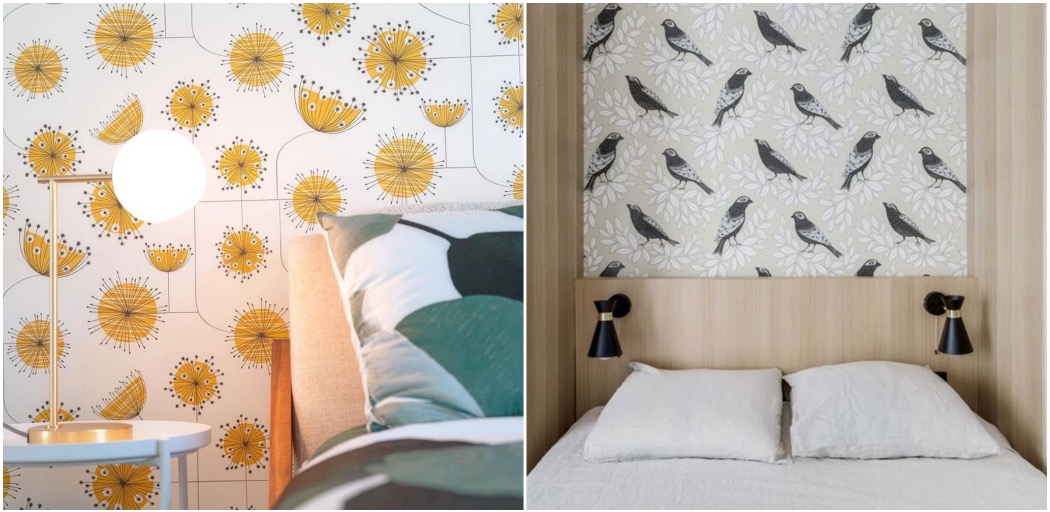 Image Credits: Left - @chicanedesigns, Right - @aufildescouleurs
When it comes to feature walls there are really no restrictions as the wall is framed like a piece of art. It should be all about dramatic, bold patterns. Feature walls are great if you want to highlight a certain area in your bedroom, such as behind the bed headboard. Slanted ceilings can also help to create a particularly framed look that works well with feature walls.
So go big and bold: large-scale tropical prints and graphic geometrics are a great choice. Or go minimal with white walls and a feature wall or perhaps select a paint colour to complement the wallpaper. This could be a highlight colour picked from the wallpaper or a tonal match - use your mood board to help.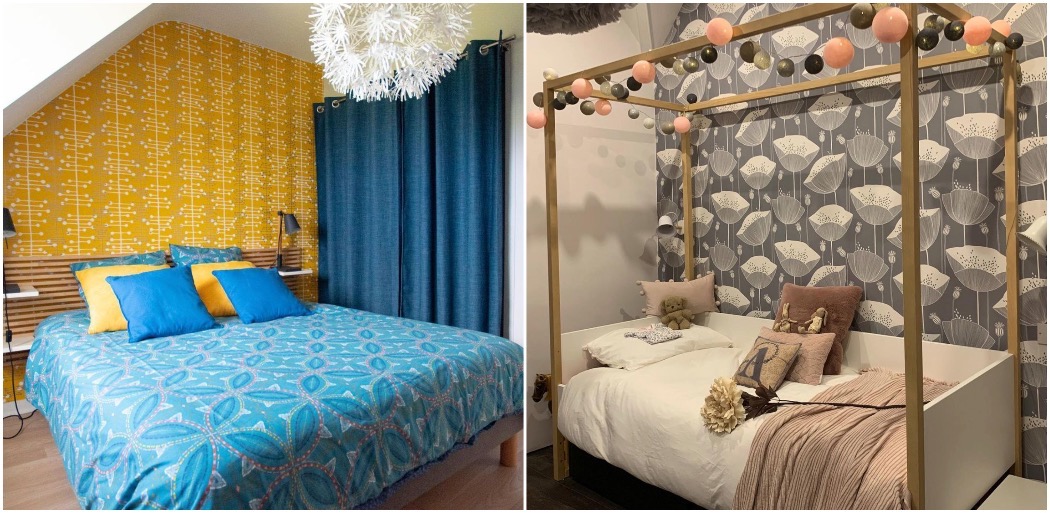 Image Credits: Left - @villakerle, Right - @victorianhouseonthehill
Step 4: How much wallpaper do you need?
When you've made your style and decorating decisions, you'll need to know how much wallpaper to get! When it comes to working out the amount needed, it is always wise to order a little more than you think you need in case of any mistakes and pattern matching (we're all human after all!). We recommend purchasing your wallpaper (and a bit extra) at the same time, as it will ensure it will be from the same product run and batch and will avoid any minor variations in colour or trim.
Are you planning a bedroom transformation? Our Pinterest has plenty of inspiration and of course, don't forget to tag us in any of your images!