Sunny brights for grey days
31st Jan 2023
As the days grow longer and we say goodbye to the cold, dark winter, our attention begins to turn towards our homes. Spring is the ideal time to give your home a little refresh, no matter how big or small. From adding some colour and fun to your walls with some patterned wallpaper, to adding pops of colour to your sofa through some accessories and cushions, there are plenty of ways to give your home a spruce up for the spring season. Inspired by the hope of some more sunshine and warmth, we've put together some spring decorating ideas when working with three of our most popular colourways – yellow, pink and blue.
DECORATING WITH YELLOW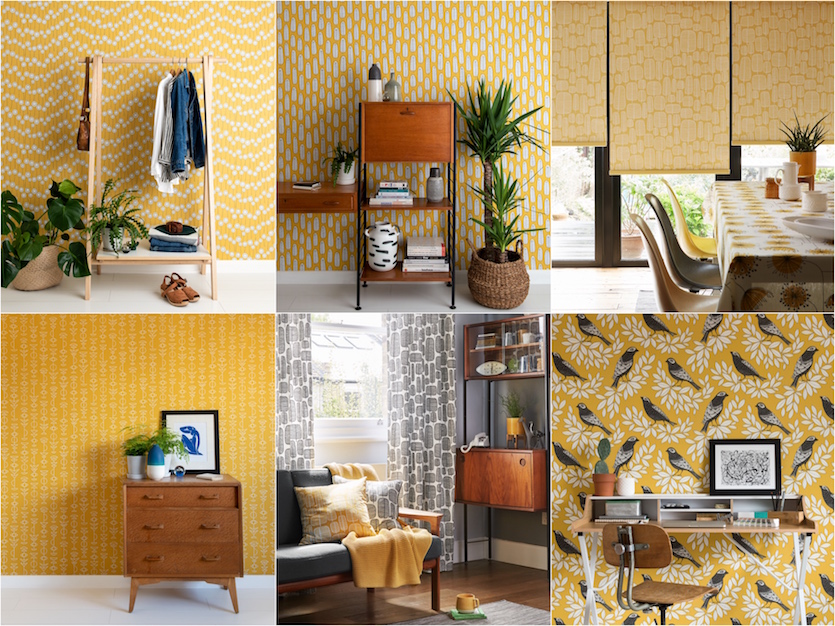 Light, bright and cheerful, bringing yellow into the home can seem quite daunting but it's also a very versatile shade. From zesty hues to more mustard tones, there are a number of different ways to successfully incorporate some yellow into your décor scheme.
Thanks to its warm undertones, yellow works particularly well when paired with wood. For a hallway that packs a punch, consider teaming our Bloom Blossom wallpaper in Goldenberry with a mid-century modern sideboard and shelving unit. Paired with some monochrome accents and some greenery, the yellow on the walls will really brighten up your space and leave you feeling content and energised. For a more contemporary twist, our Pendulum Moroccan Sun yellow geometric wallpaper and eye-catching new Meadow Goldfield pattern will also breathe new life onto your walls, whilst our bold Songbird design is ideal for a bedroom or study area.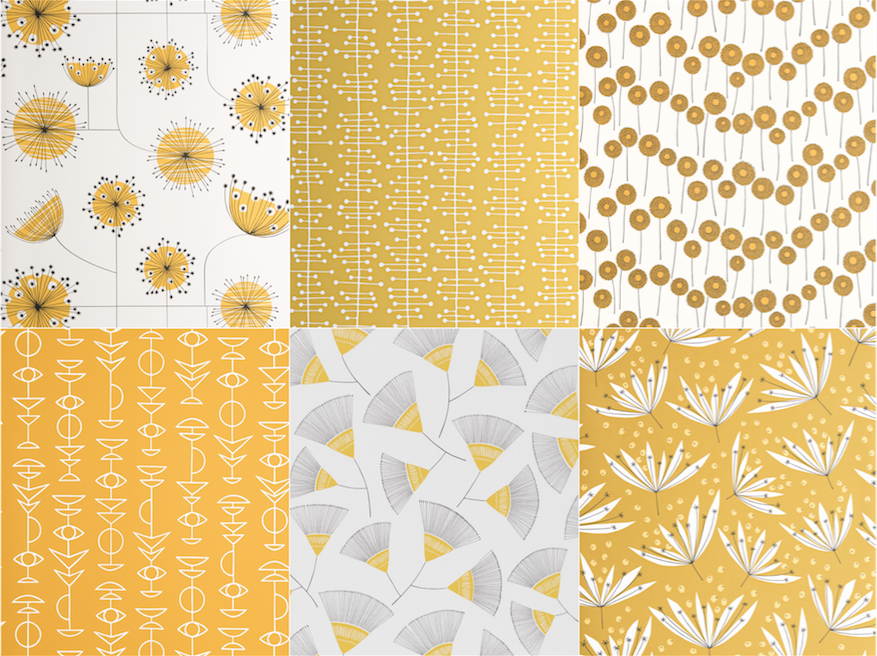 If you're keen to bring some yellow into the home but want to keep a more neutral backdrop on your walls, adding pops of yellow through cushions, throws and even window dressings can be just as effective and will act as an inviting focal point in a variety of rooms – from the kitchen to the bedroom.
BRINGING BLUE INTO THE HOME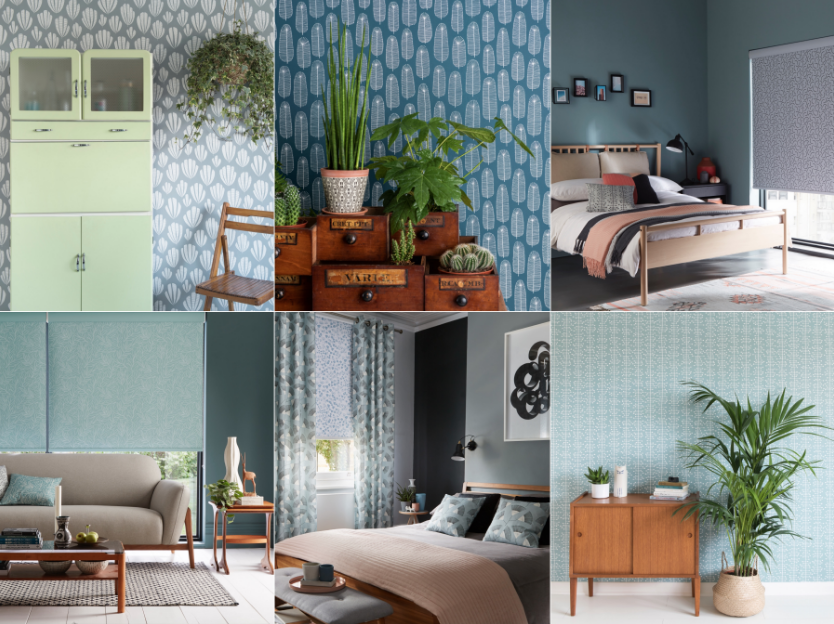 Duck egg, teal, aqua, powder blue, navy, the list goes on! When it comes to the colour blue there are a lot of options. A soothing and calming shade, blue will bring a sense of serenity to your interior and as a result is a particularly popular shade for the bedroom. Teamed with dusky pink bed linen and cool grey tones, opting for blue curtains or blinds (or both!) in the bedroom will create a relaxing ambience, resulting in a space that you look forward to retreating to after a long and busy day.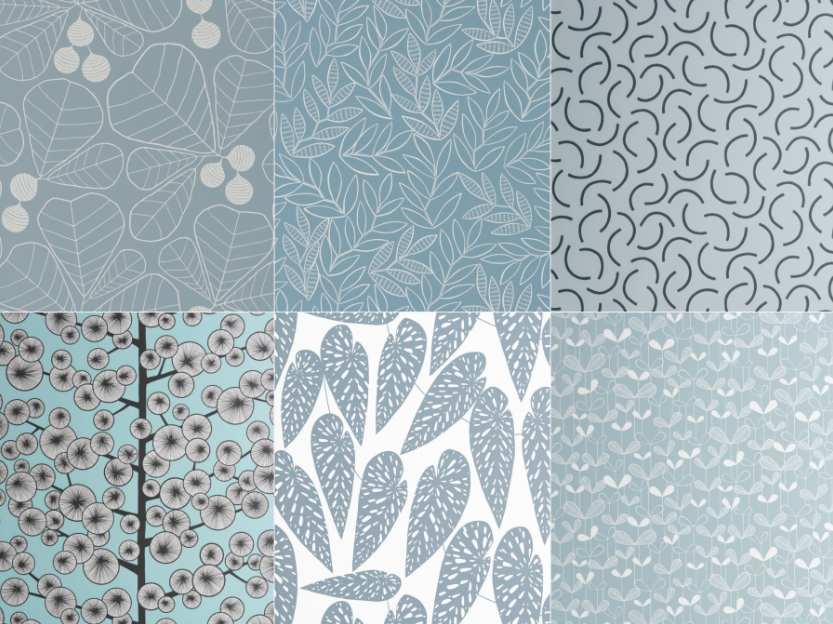 For a retro feel with a hint of playfulness, team light blue patterned wallpaper with a vintage piece of furniture in mint green. The contemporary, abstract design of our Hoja wallpaper is perfect for injecting a bit of character without overpowering a space, and sat next to the pastel tone of this retro unit provides a fresh and light feel. If you're looking for something less chintzy, our collection of modern geometric blue patterned wallpaper will work wonders. Opt for more inky or navy blues paired with succulents and houseplants to create a beautifully contemporary scheme.
BE BRAVE AND HAVE FUN WITH PINK INTERIORS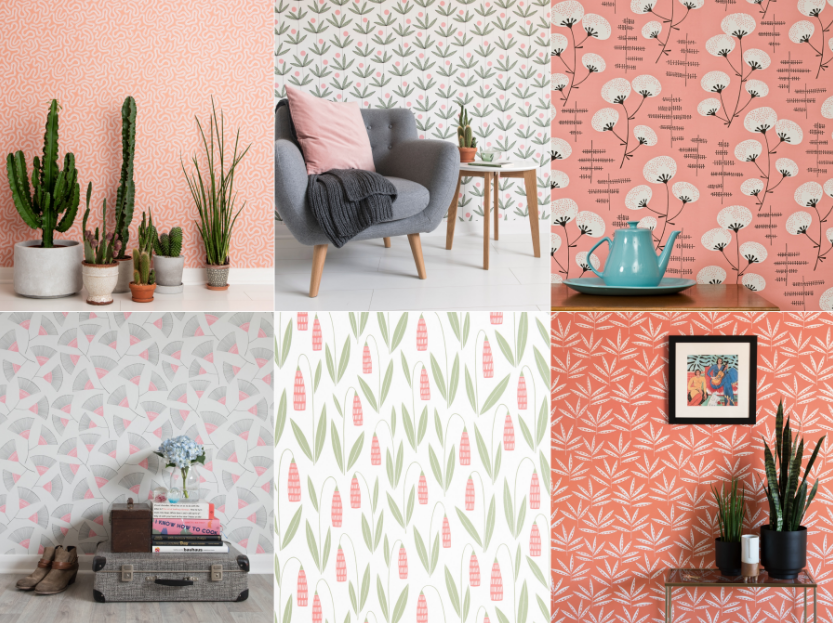 Love it or hate it, there's no denying that pink has experienced a resurgence in popularity within interiors over the past few years. From Pantone's 'Living Coral' to an inundation of dusky pink upholstery and soft furnishings, pops of pink have been making their way into our homes in a number of different ways. Here at MissPrint, our collection of pink wallpaper covers all the bases: from delicate and floral to contemporary and botanical. So no matter what your style and taste, we'll have something to suit you.
For a modern scheme that leaves a lasting impression, opt for a bright coral patterned wallpaper. A true statement design, our Pea Pods pattern in Terracotta is sure to brighten up your home and is perfect for feature walls, cloakrooms or even entrance hallways. Teamed with sleek furniture and black accents, this wallpaper is guaranteed to deliver the wow factor. Another unique and striking pattern is our new Coral wallpaper in the Peach Blush colourway. Slightly lighter in colour, this choice looks perfect when accompanied by plenty of foliage and succulents.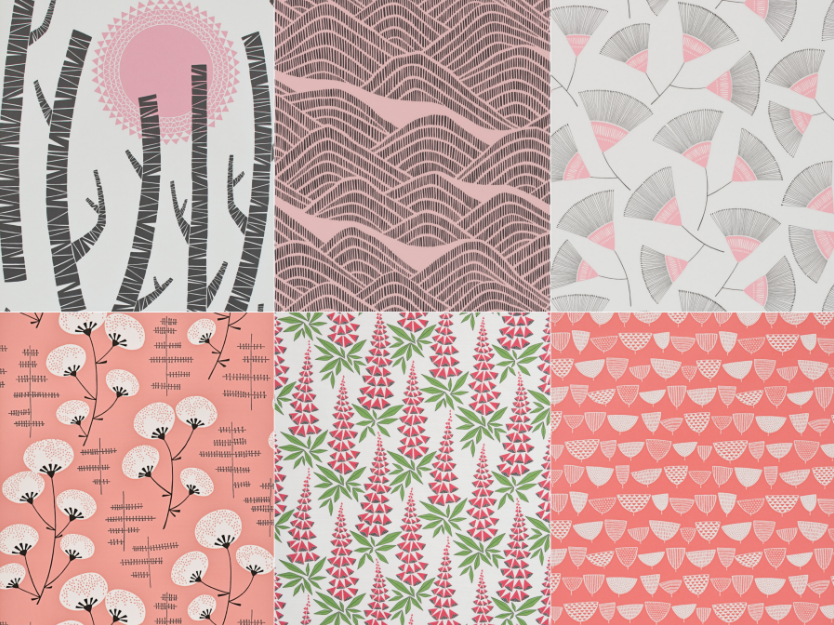 Not everyone will want to go all-out when it comes to pink. If you would prefer a more subtle approach to decorating with pink, consider a design with a neutral backdrop that features small hints of pink. The new Jungle Plantation and Palm Tree Glades wallpapers both bring in a palette of white, green and soft greys for the touches of pink to shine from.
Whether you're thinking about doing a full redecoration or simply feel inspired to make some small interior updates, there are so many ways to bring a hint of sunshine and happiness into your home this spring all with some pattern and colour.