Easy Home Updates using Wallpaper
24th Jun 2020
With us all spending much more time at home, there's been a lot of interest in how we can make simple yet effective updates to our interior décor. From DIY tasks we've had on our to-do list for years, to exciting and fun creative changes you've finally become brave enough to do, there's so much to explore and do in our homes.
Wallpaper is extremely versatile when it comes to easy home updates. There are so many ways to use wallpaper in the home to help you add some interest, fun, pattern and colour in a way that suits your style. We love getting creative here at MissPrint, so we've put together a selection of easy home wallpaper update ideas that you can do yourself! Let us know how you get on, and don't forget to tag us on Instagram so we can see your creations!
Wallpaper the back of your shelves

(Image credits: @no5_interiors, @sorbyn21 & @reedharristiles)
Adding wallpaper to the back of your shelves or built-in media units is something that you often see across Instagram and Pinterest. It's a common easy update that will give your ornaments, books or trinkets a beautiful backdrop and is the ideal way of bringing in a hint of pattern or colour into a space without having to go 'all-out' on a wall. Depending on the size of the space, you can do this with samples or leftover pieces of wallpaper from another room to create some continuity in your interior style.
Dress up your planters and plant pots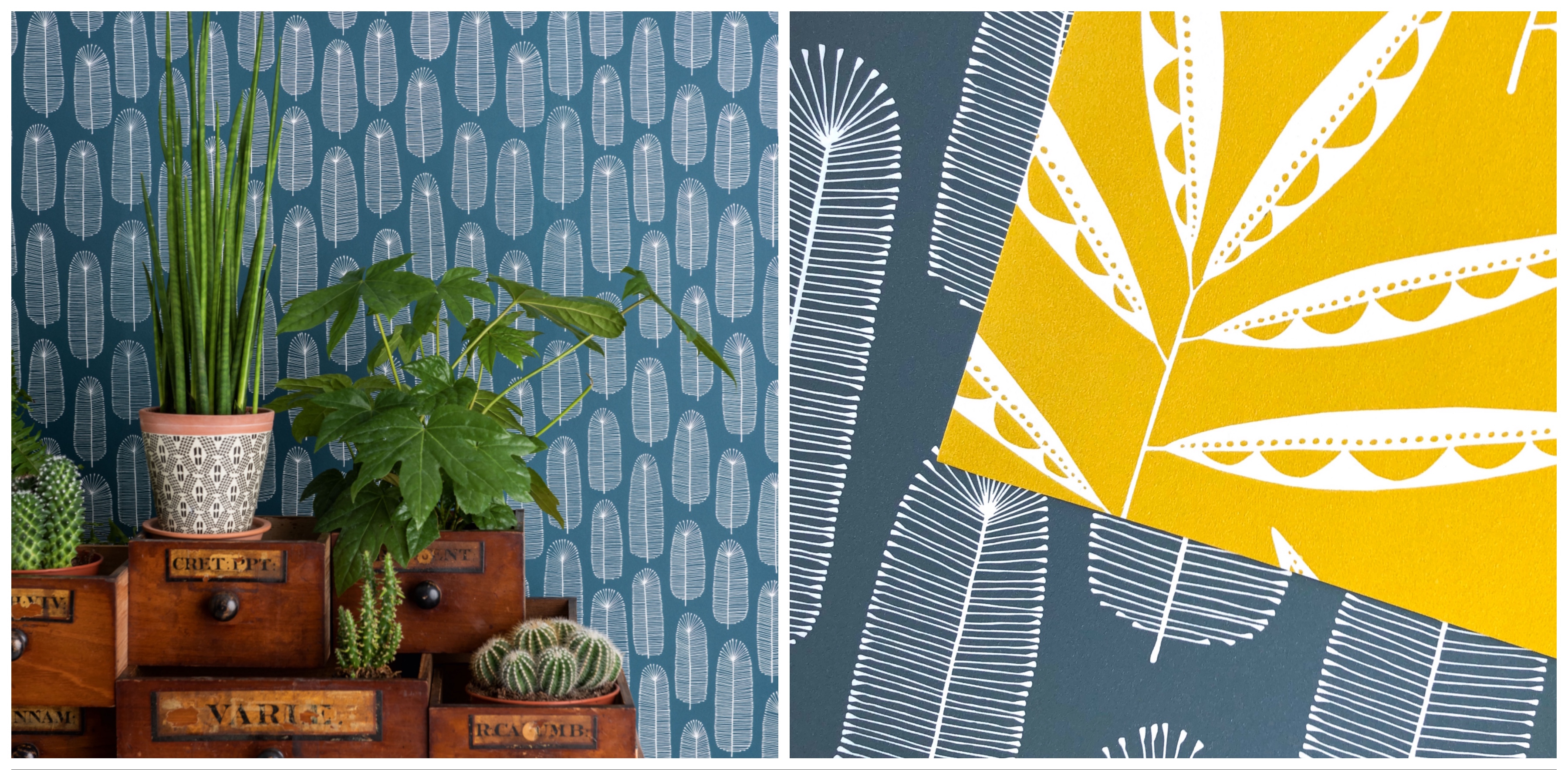 It's no secret that we're fans of plants and botanical-inspired design here at MissPrint, so there's no surprise that we love this idea! If you have a selection of samples lying around, why not cover some of your plant pots or planters with the wallpaper? Most of our colours and patterns will look amazing against greenery and it will add a charming touch to your décor.
Add some pattern and colour to your stair risers

(Image credits: @lisacomforthome)
It might not be the first place you think of wallpapering, but stairs often form the central part of the household. We spend a lot of time thinking about ideas for carpets, runners and even wood finishes but why not consider something more decorative? Add some wallpaper to your stair risers (not the treads) to bring a little cheerful detail to every step you take!
For an interesting video that shows you how to wallpaper your stairs, take a look at Lisa Comfort's YouTube!
(Image credit on right: @ankevangoor)
Wallpaper your ceiling
We've seen an uplift in people painting their ceilings so why not do the same with wallpaper? If you choose to do this, it's important that you plan your colour scheme. You can have dark or light walls, but just make sure whichever pattern or design you choose for your ceiling ties in and complements the surrounding colours and details.
Add a wallpaper accent to alcoves and nooks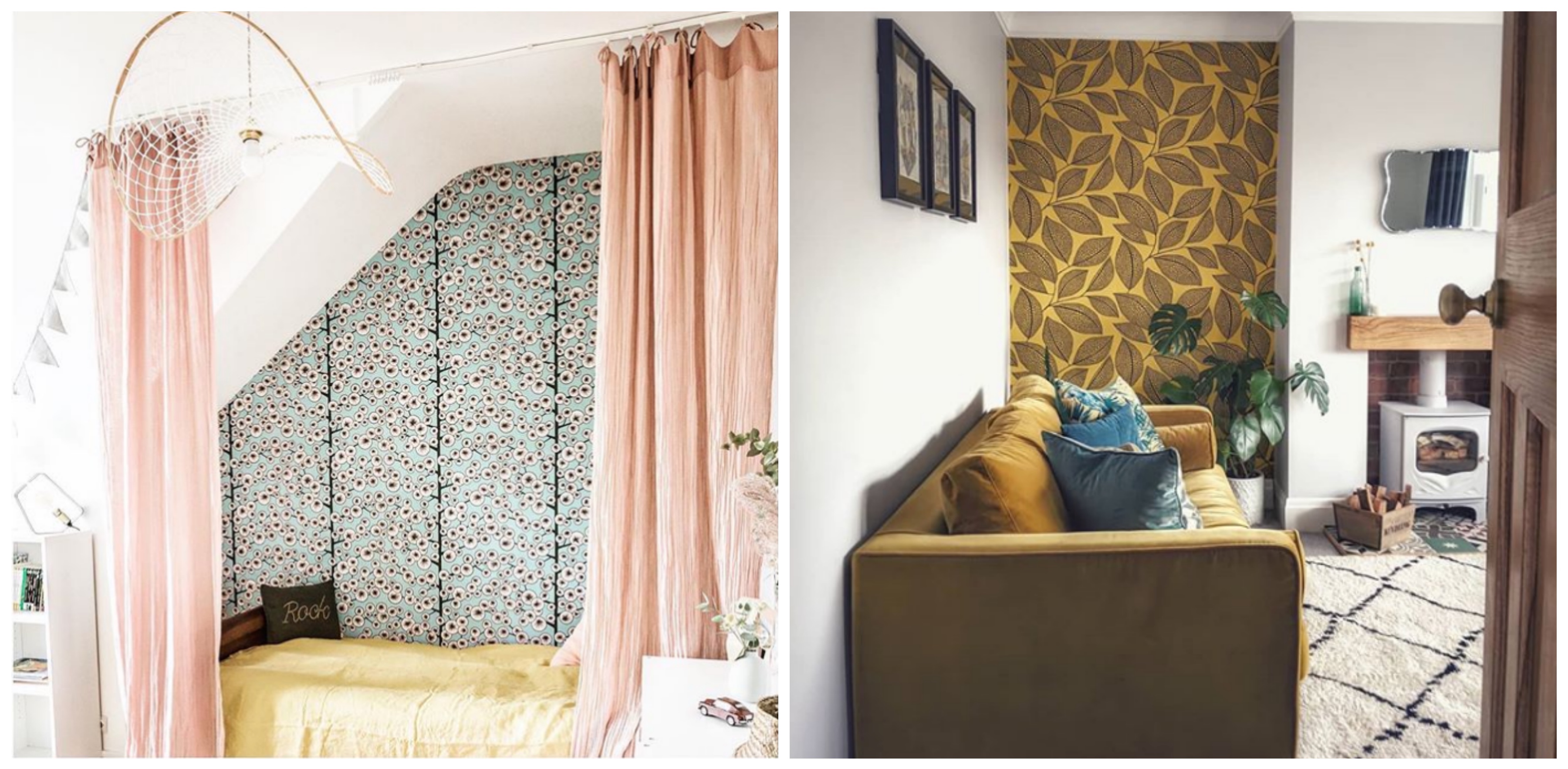 (Image credits: @atelierdevergne & @thehalfdonehouse)
Lots of houses have little nooks and alcoves that we often find difficult to style. Wallpapering the inside of these spaces will ensure the area isn't forgotten about and will inspire you to decorate it in a way that suits the rest of your interior. Adding shelves, plants and even fairy lights will create a lovely dedicated zone and bring your whole look together.
Frame wallpaper samples or leftovers

(Image credits: @styling_my_home & @hannahm0rley)
We love this idea, it's so simple yet effective. Wallpaper patterns and designs are pieces of art in themselves, and so framing them and putting them on display is a great way of using up any samples or leftovers.
Wallpaper your light switches
One of the more quirky ideas, wallpapering your light switches can be a fun little change to your interior. You won't need much paper per switch so you can probably make one sample or leftover stretch across a few light switches. A great idea for kids bedrooms or playrooms!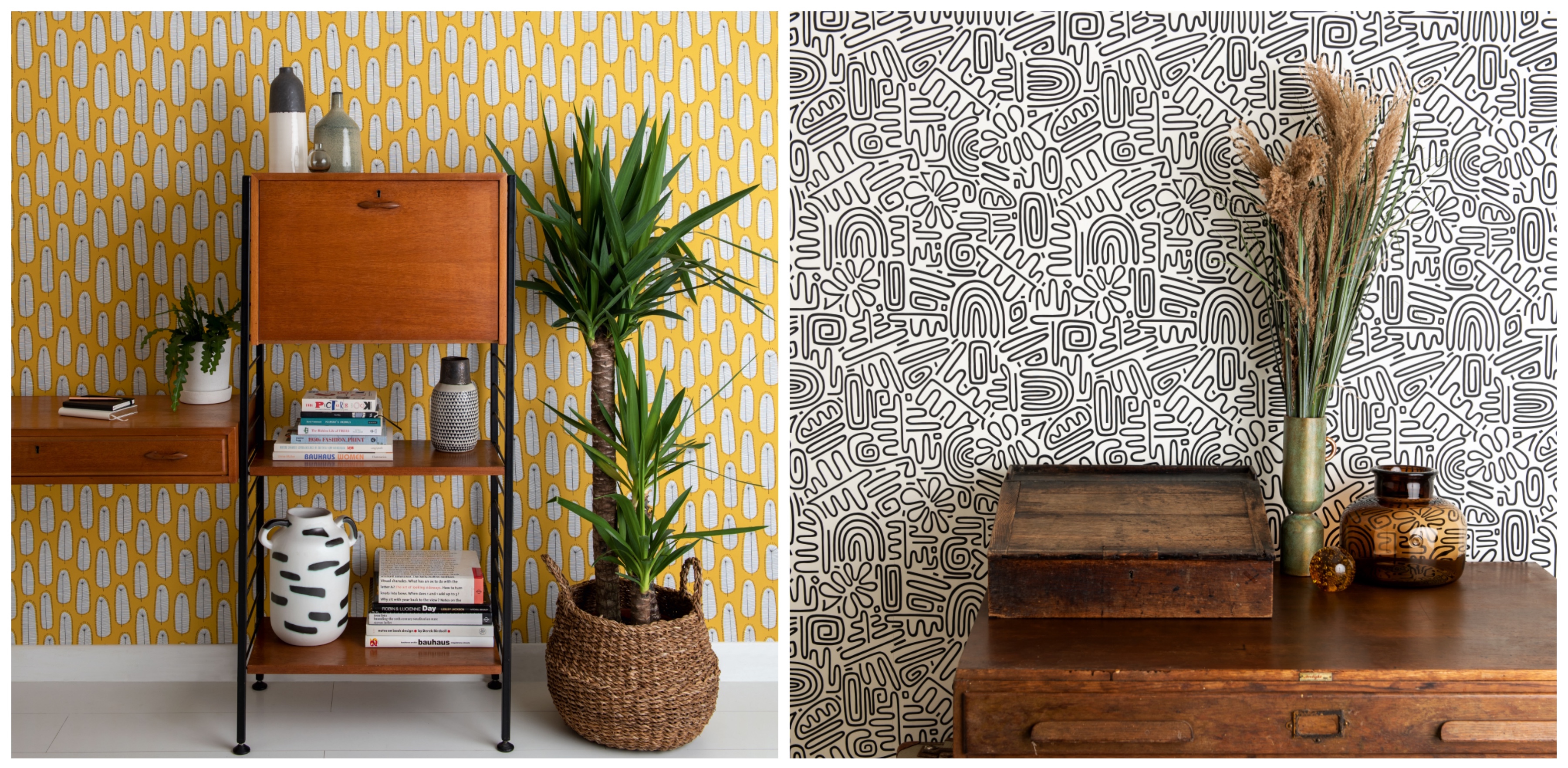 Line your drawers with wallpaper
An oldie but still a goodie! Lining your drawers with wallpaper can inject a little bit of happiness into your day every time you get your clothes out. You can also mix and match with different wallpapers in different drawers without worrying about anything clashing.
Cover your books & boxes with wallpaper
Much like in the 'old days', covering books with wallpaper can make your shelves look pretty as a picture! Storage boxes such as shoe boxes or cylindrical containers can also be covered so that they don't look out of place in the corner of a room and fit in nicely with your surrounding décor.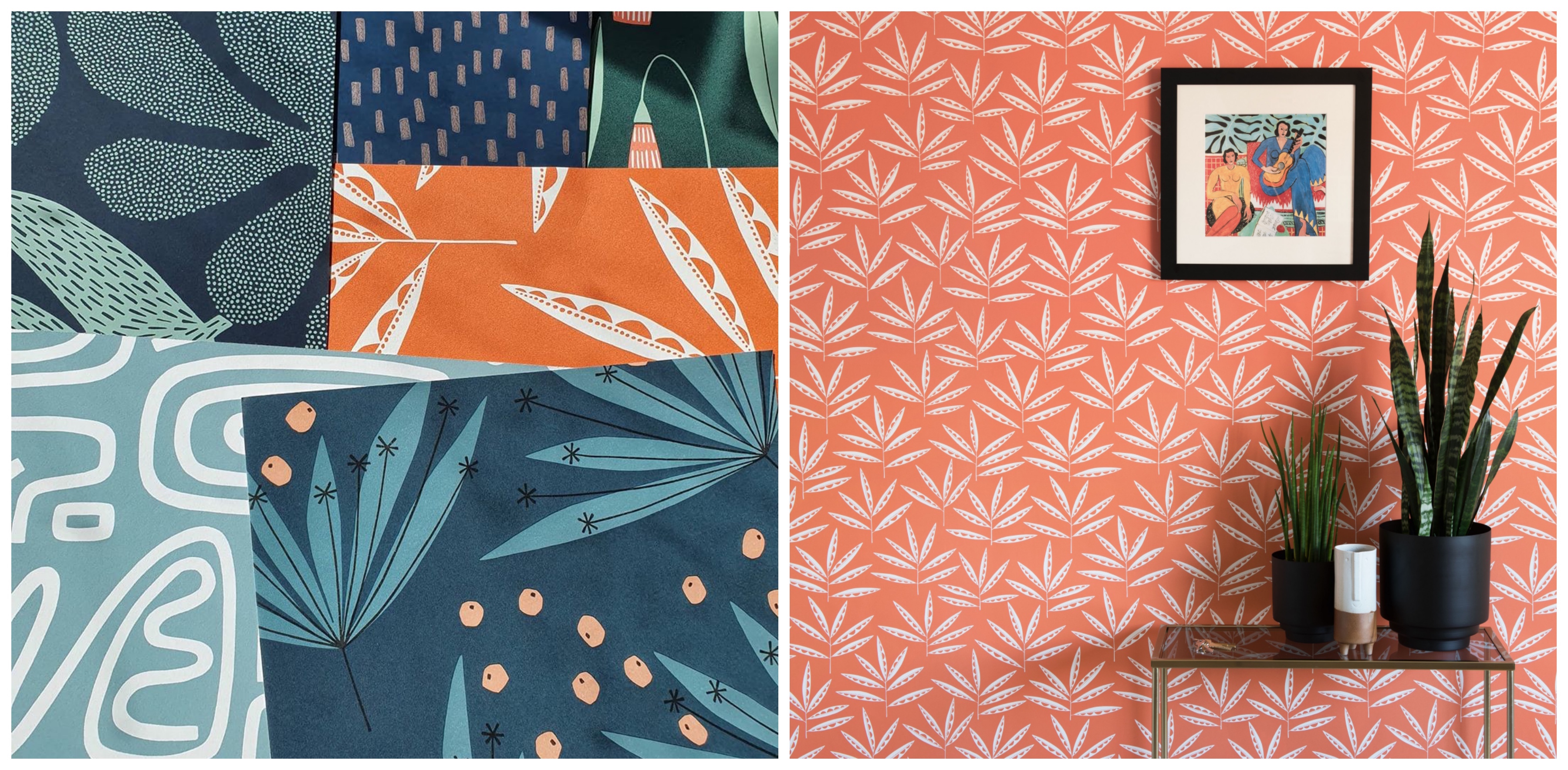 (Image credit on left: @45intheshade)
Put wallpaper in your door panels
Quite a bold design decision, if you have panels in your doors you can consider adding wallpaper to them. This idea will probably look best in bedrooms or guest rooms, and you have to make sure as always that the pattern and colourway ties in well with the rest of the room!
We hope we've given you some ideas on how you can creatively use wallpaper in the home. There are so many things to be explored and there's never been a better time to make some easy home updates! Keep us updated on any changes you make using our wallpaper!