How to Create a Moodboard
23rd Mar 2021
When planning your interior décor scheme, it's important to make sure that all your colours, fabrics and patterns will all work together well. The best way of doing this is to create your own moodboard. Whilst Pinterest might be a good starting point for inspiration images (and these are great to print and place on your moodboard!) a real life moodboard will allow you to see what paint colours, wallpaper colours and fabric textures will look like in reality when paired together.

If you're not sure where to start, we've put together a few small steps to guide you on how to create your own moodboard at home, alongside some moodboards of our own!
Step 1: Collect your key materials
The first step is to gather the key focal points for your décor scheme. When it comes to planning for walls this will usually be wallpaper samples and paint samples. Our top tip is to get as many samples as you can! If there are going to be any upholstered pieces or soft furnishings it's a good idea to get fabric samples as well so you can pair and make sure they match nicely on your moodboard. If you have any inspiration images saved on your Pinterest or magazine pages ripped out, now's the time to print them out and choose your favourites.
Step 2: Choose your base colour
A key part of planning is choosing your base colour, or at least a palette that you want to work with. When it comes to blues and greens for example, there are so many variations so it's important to see what wallpapers, patterns and paints you want to pair together. Are you going for deep navy wallpaper paired with a lighter contrasting paint colour? Or are you wanting to opt for a more patterned approach, with blue geometric shapes on a white background? There are so many options and it's important to really explore different colour groups and patterns to see how bold or how pared-back you want to go!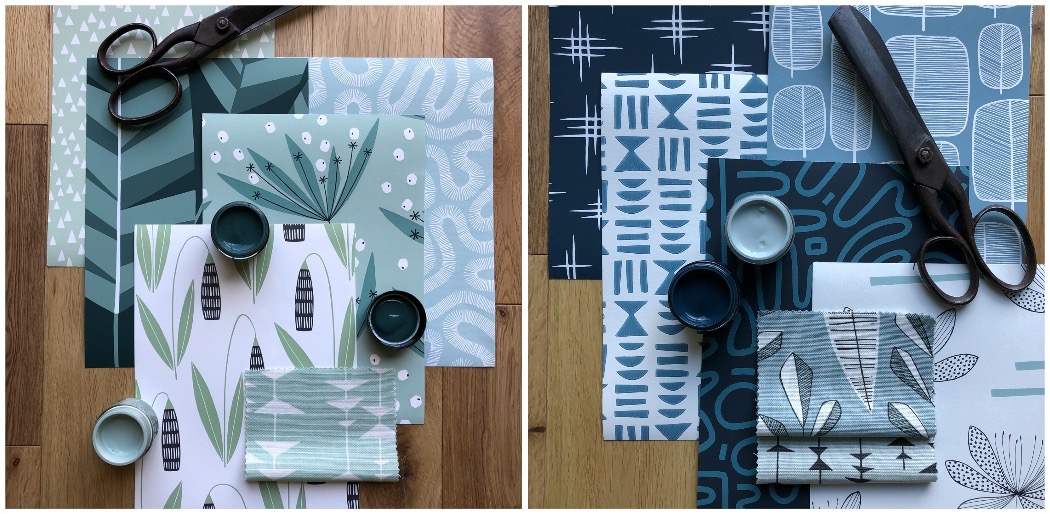 Step 3: Add an accent
If you want to add an accent colour to your scheme, then a moodboard is a must! A pop of contrasting colour needs to be planned to make sure it'll work well within your space and not stand out for the wrong reasons! Whilst this moodboard is predominantly led by a pink palette, we wanted to bring in some accent pops of green. You can see here how we've selected wallpapers that incorporate both shades but on a white background, or we could opt for a pink wallpaper and pair it with a beautiful mint green paint, both options would work perfectly and we can see how it would look in real life thanks to the moodboard!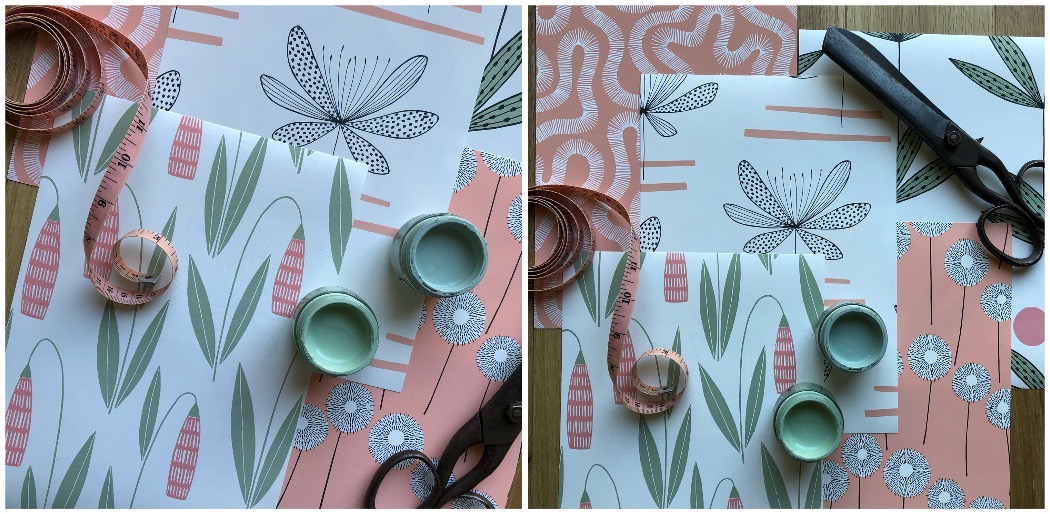 Similarly with this more vibrant moodboard, the combination of black and yellow can be carefully planned to create the sought-after aesthetic. Whether you end up with a white and yellow wallpaper with black accents brought in through furniture or accessories or you opt for a black and yellow wallpaper for a more daring look, the moodboard will help you make your final decision.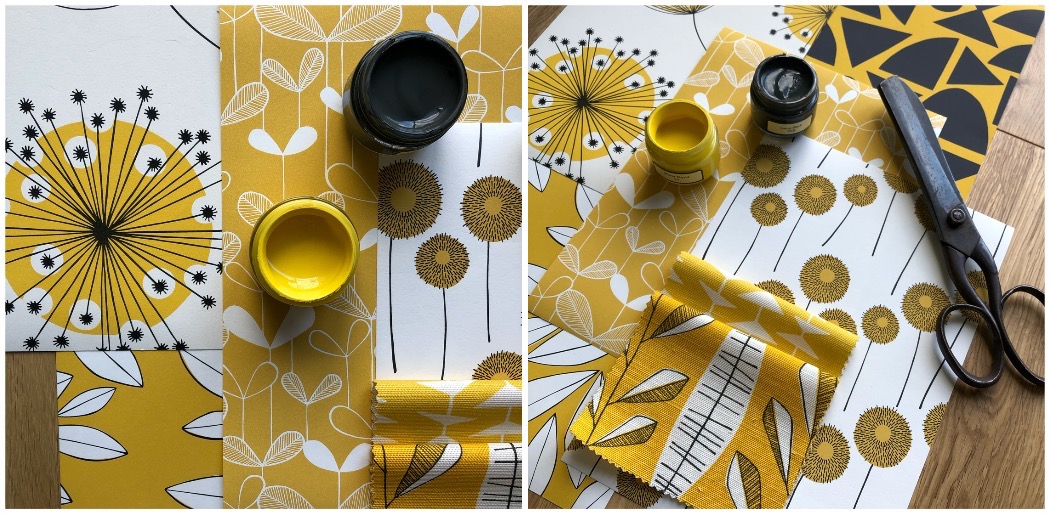 Step 4: Add accessories
Accessories dress a space and it's important to consider them in your planning. Cushion fabrics in particular are a great thing to include in your moodboard so that you can see how they will sit against your new colour scheme. Whether you opt for complementary colours and patterns or feel brave and want to incorporate some clashing patterns and contrasting colours, your moodboard will help you experiment and decide with confidence.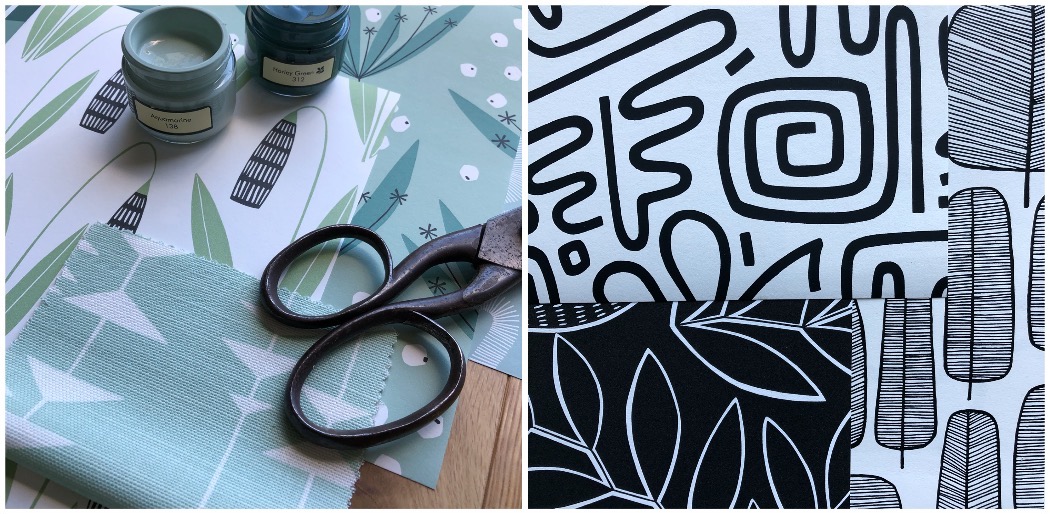 Step 5: Place your moodboard in situ
Once you've finalised your moodboard, think about placing it in the room you're working on. If you've got a piece of furniture that you know will place a key part, place it on top of it and make sure you're happy with your colour and pattern choices. Placing it in situ will also help you see how different colours, finishes and patterns will look in the room's light, which is important when making colour choices!
We hope our step-by-step guide has helped you feel confident enough to get started on your own moodboard. It's a creative process so you should trust yourself; experiment and test different things, the end result will be so much more rewarding!