How to Mix Pattern in the Home
28th Feb 2022
Bringing pattern into the home can feel like a daunting task, so the thought of combining different prints can certainly feel a little bit scary. There are a number of ways to mix pattern effectively; from sticking to a cohesive colour palette to creating a bold and exciting contrast. Here, we take a look at some of our favourite ways of working with different wallpapers and fabrics, and how to mix pattern in a fun and stylish way.
Combine pattern on your walls with other surfaces
When planning your interior scheme, you will need to consider a number of surfaces. If you have a wallpaper in mind and you want to bring in some added interest and character, consider opting for a different pattern on the floor. A patterned carpet in a contrasting colourway can create a visually arresting space; somewhere that is all-at-once harmonious and stylish. Take a look at @aracelicreates (shown below left) and this nursery. Our Little Trees Sherbet wallpaper sits perfectly next to the semi-circle pattern of the carpet, resulting in a wonderfully cohesive monochrome space.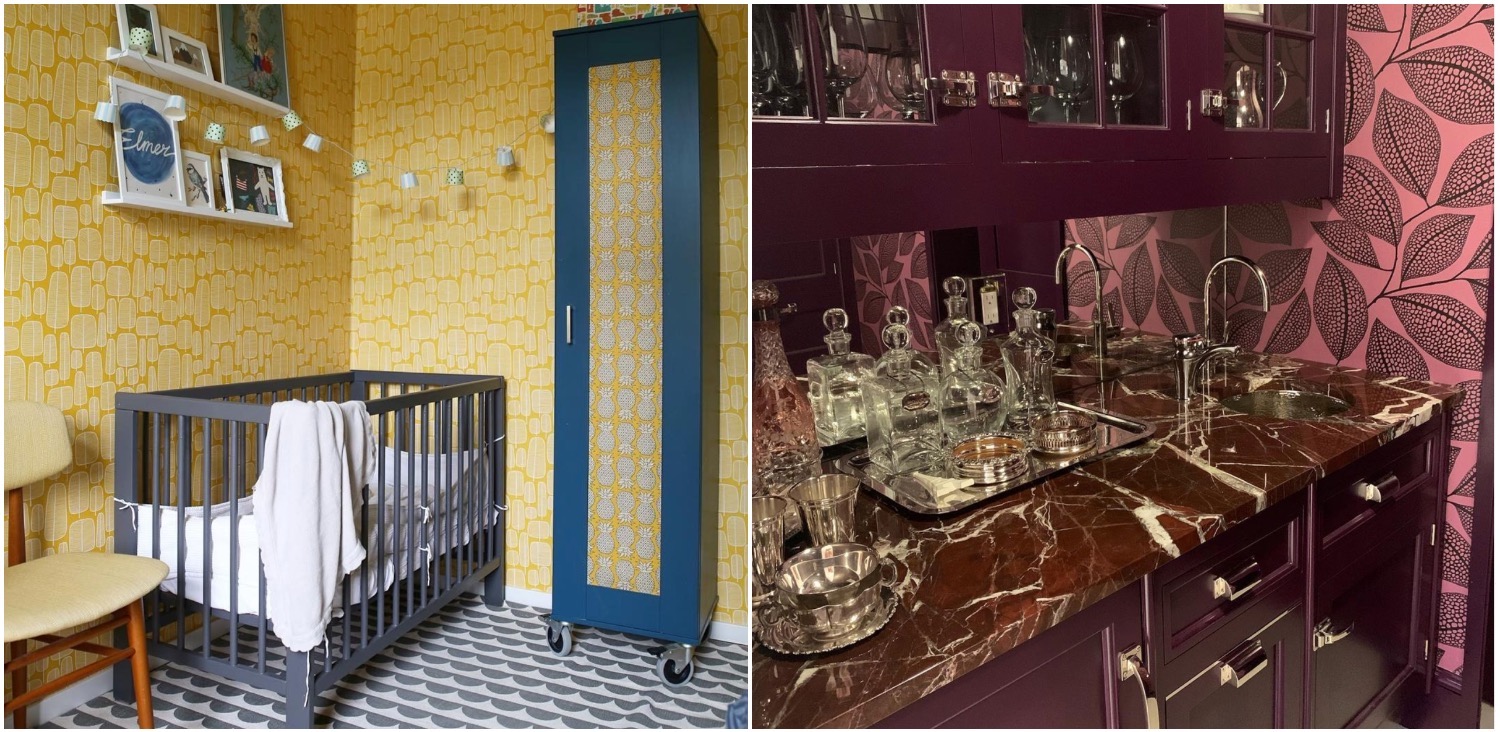 If you want to stick to the same colour palette and still make an impact, take note from @charlottebarnesdesign (above right). The combination of our Pebble Leaf wallpaper against a visually striking red marble worktop and berry-coloured cabinetry is a pattern contrast made in heaven. It's brave but it will certainly leave a lasting impression!
Find a common colour palette

Different patterns can easily be mixed if there is a common colour thread throughout. Much like layering in a room through your soft furnishings and furniture, you can blend a variety of patterns in a harmonious way. Ensure there is a common accent in each pattern and work with a combination of full background colour and white background designs. Tie the scheme together with a base paint colour to ensure there is a continuity of design throughout your entire space.
Tip: When mixing pattern it's even more important to create a mood board. Gather your swatches and paint samples and experiment with various configurations and pairings to make sure you're happy with how everything will look in real life.

Create a bold contrast
There are of course those of us who are more than happy to make a statement in a big and bold way. Using two different wallpaper patterns on opposing walls is one thing but making a unique shape with them and combining them on the same wall takes it that step further! Kids' rooms have always been spaces where you can really get creative and @runforthehillslondon has done just that using two of our wallpapers – Coral Peach Blush and Snowdrops Evergreen – making a fun zig-zag effect (see below left).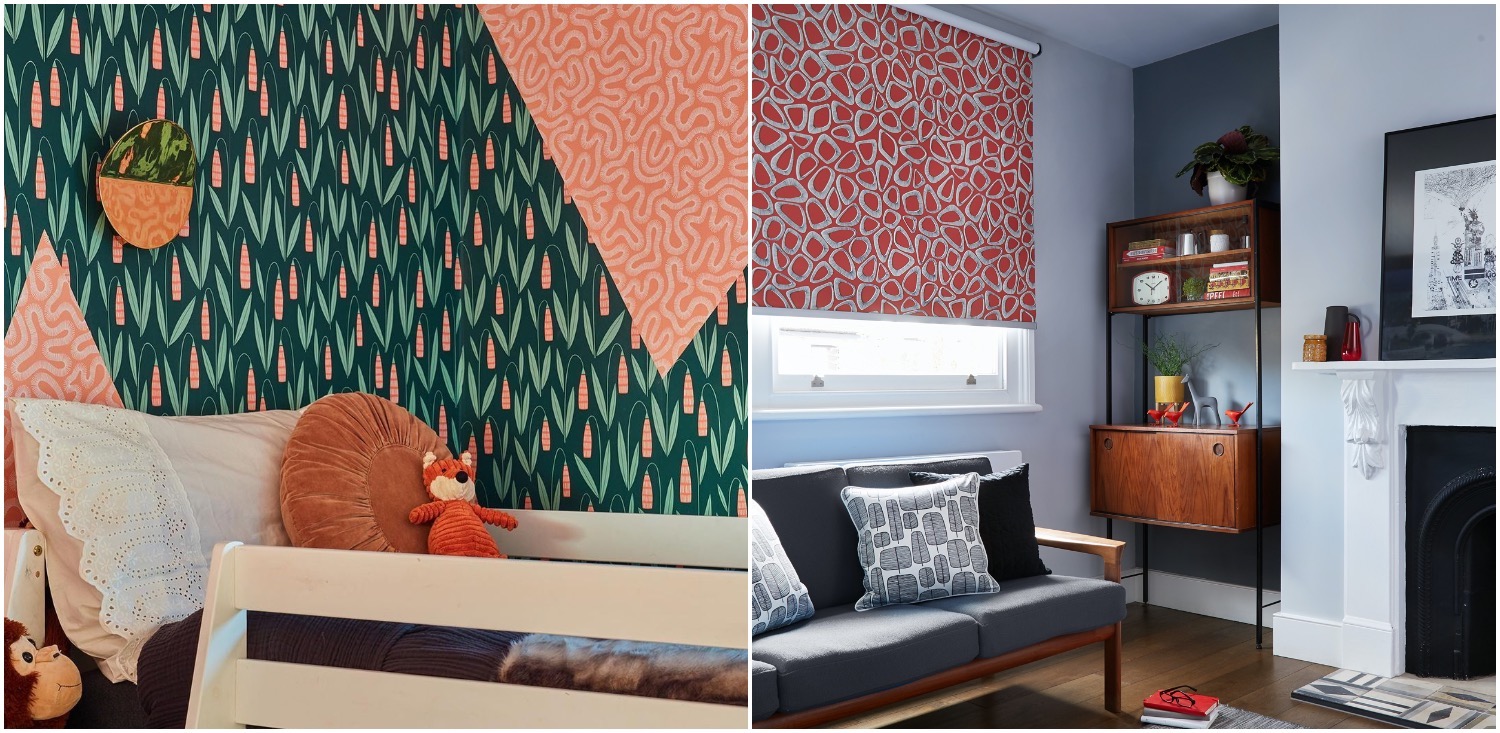 Another way to make a bold statement is by pairing a colourful window covering with contrasting accessories. Here (above right), our Pebbles pattern in Ladybird on the window blind mixed with a monochrome Little Trees pattern on the cushions adds interest whilst tying the décor together in a harmonious manner.
Make your accessories pop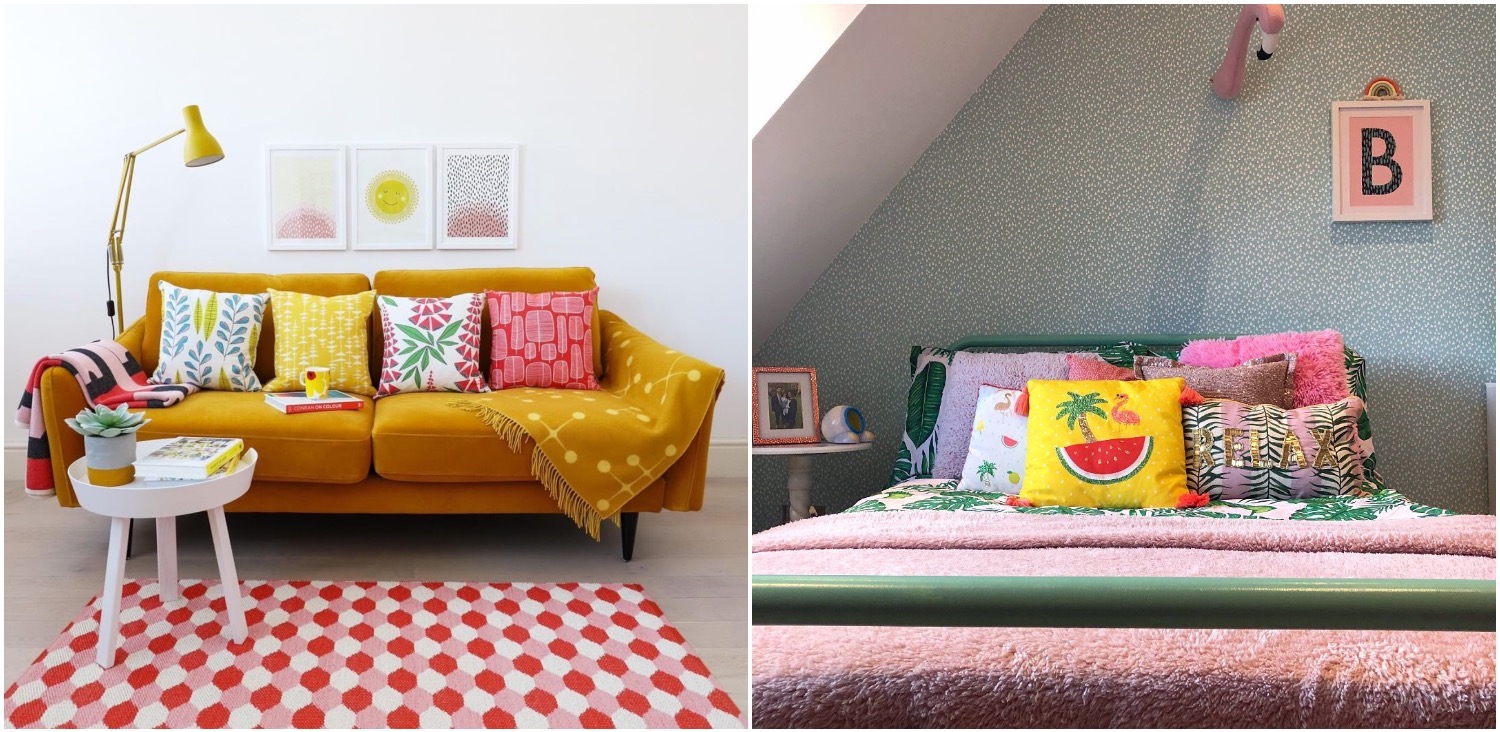 Accessories are perfect for getting creative with pattern. Cushions in particular will give you the freedom to mix lots of prints and colours that will really shine bright and show off your personality. @littlebigbell's sofa space is the perfect example of this (above left) – the blend of patterned cushions, art prints, the colourful sofa and patterned rug all work together to deliver a living space that's full of life and character. @colour_with_annie shows us how it's done in the bedroom too (above right), with an array of cushions, a patterned bedspread and our Chimes Pinto wallpaper.
Show us how you mix pattern in your home by tagging us on Instagram!