How to Pair your Paint and Wallpaper
28th Apr 2021
Pairing paint and wallpaper is a popular thing to do within the home. Depending on what colours and patterns you go for, the perfect pairing can really bring a room's scheme to life. There are, however, a few things to consider when matching your paint and wallpaper to make sure you get it right. From balancing colour palettes to counteracting bold tones with paler ones, we've put together our top tips on how to pair your paint and wallpaper successfully.
Before you start
As with any decorating process, preparation is key!
The first thing you need to do is consider the space that you have to work with: how big is it? Which walls are you wallpapering, and which are you painting?
Once you've assessed your space, you will need to find your likes and dislikes and gather your inspiration, this will be your starting point for choosing which wallpaper and paint to go for!
Next, it's important to consider the lighting in the room. Different levels of daylight and artificial light will have an effect on how colours appear, which leads us onto our next preparation step…
Get plenty of testers and samples! You need to see what your chosen wallpaper and paint colours look like in your room, so make sure you get lots of testers! Put them around the room on different walls on pieces or paper and stick wallpaper samples to different walls and make sure you're happy with how everything looks at various times of the day; you'll be surprised how different things can look when they're in the room!
Pair your paint and wallpaper using complementary colours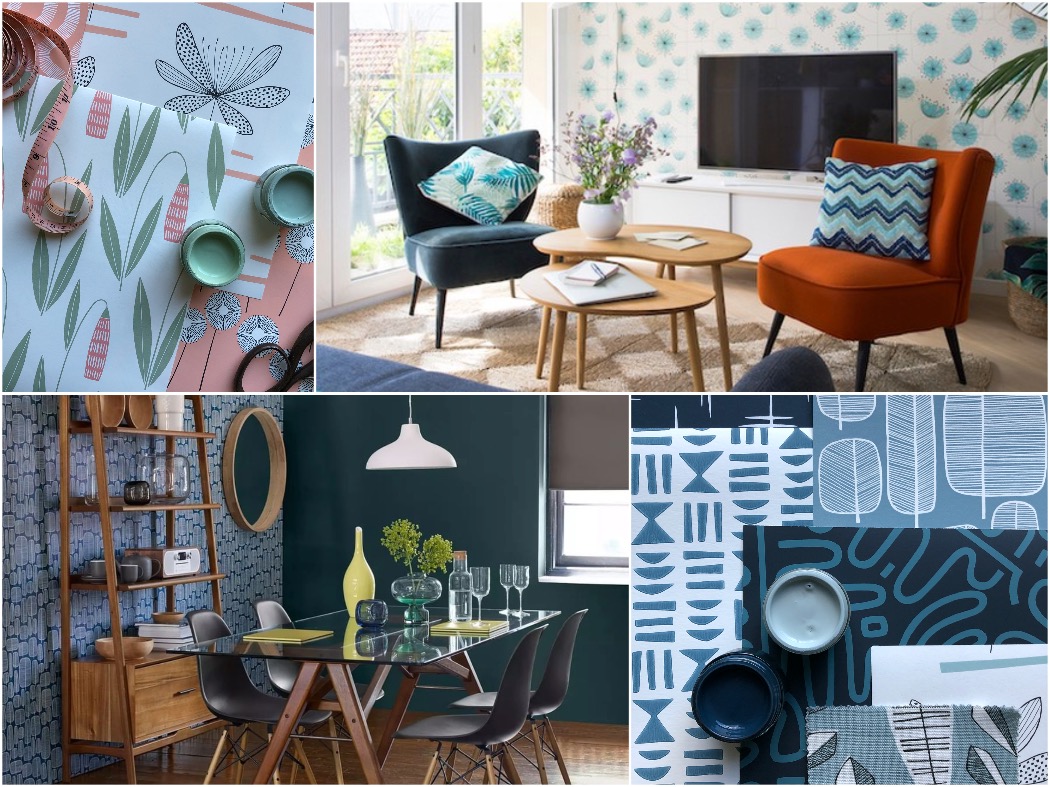 Image Credits: Top right - @atelierolivierbourdon

One of the easiest ways of pairing your paint and wallpaper is to use complementary shades or colours from the same part of the colour wheel. This will create a more pulled-together appearance from your wallpapered walls to your painted walls and ensure the space feels cohesive and well-matched. This approach can be applied to both lighter and darker wallpapers, the key is making sure everything works well together.
Be bold! Go for a contrasting paint colour

Image Credits: Left - @theealinghouse, Right - @scenedeliesse

If matchy matchy isn't quite your thing and you want to make more of a statement, consider going for a contrasting paint colour. We're all becoming more adventurous with our interior choices and opting for a contrasting paint colour to your wallpaper is a great way to really add some interest to your home! If you're going to opt for contrasting colours, then it's even more important to get your samples and testers, as you'll want to make sure you are 100% happy with your choice! Contrasts can look great, but they still need to work together!
Let the wallpaper do the talking: pair with a neutral paint colour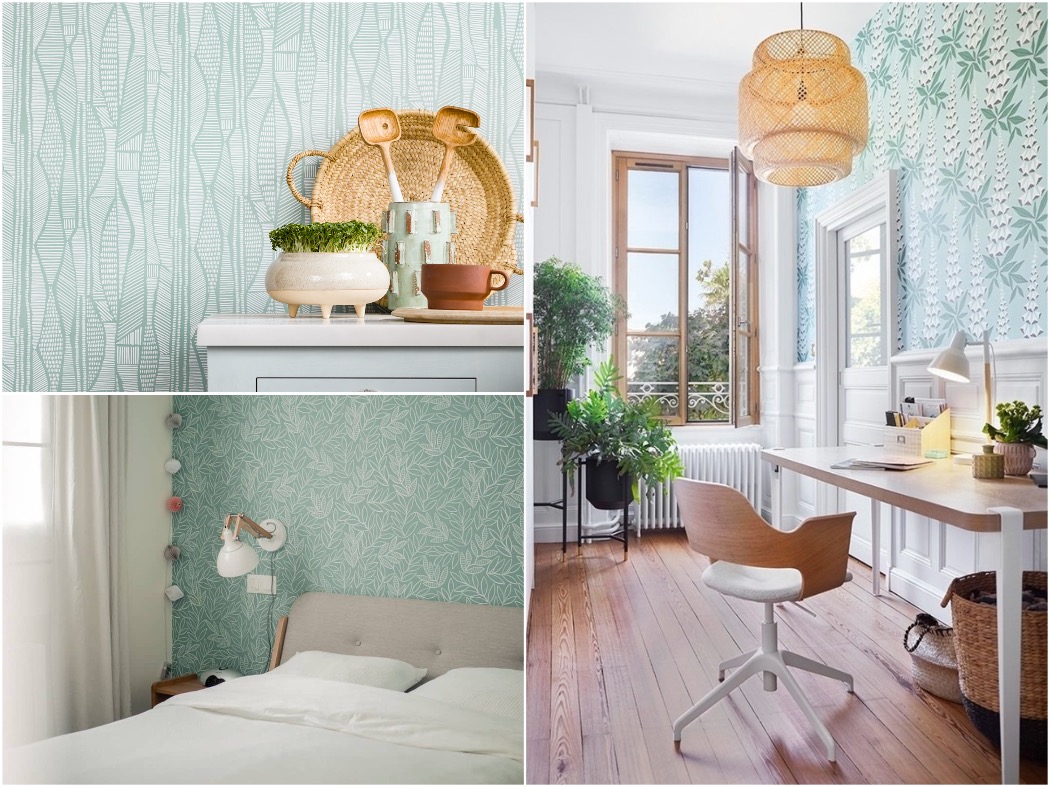 Image Credits - Bottom Left - @e0wine, Right - @urbansourcechicago

You may find that you want your wallpaper to be the main focal point of your room and as such, would prefer to pair with a more neutral paint colour. In order to create the perfect balance, find a paint colour that complements but doesn't detract from the wallpaper pattern. Use the wallpaper as a base to find the complementary shade, this could be a similar colour to the wallpaper's main colour or simply something from the same colour family.
Match your paint to an accent colour in the wallpaper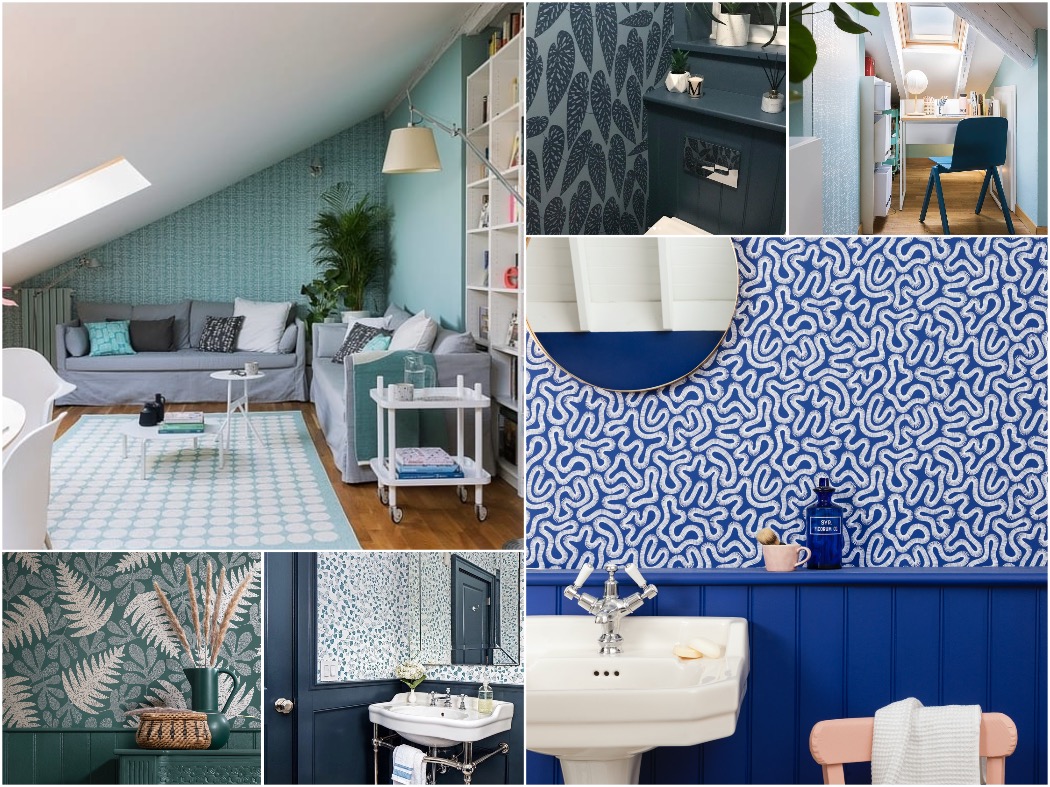 Image Credits: Top Left & Top Right - @vanessapiskstudio, Top Right Middle - @lauragrayinteriors, Bottom Left Middle - @ankevangoor

Pulling out the most dominant colour in your wallpaper and matching your paint to it can be really impactful. This works for bright colours as well as more neutral schemes as the premise and goal is the same; to create a beautifully matching space. Here, our Coral Lapis wallpaper has been paired with panelling in the same electric blue shade, making a truly striking statement, but the wallpaper is still king! If you are colour matching to a wallpaper, you may need to get paint specially mixed, so just make sure you test everything and you're happy with the final colour!
---

We hope we've given you some food for thought when it comes to pairing wallpapers and paints. As with everything in interiors, do whatever makes you happy and works best for your style, but with the help of our tips we hope we have made the process that little bit easier! Don't forget to share your home decorating progress with us by tagging us on Instagram, we love to see how you have used our wallpapers!