Inject light & joy into the home: Ways to incorporate a vibrant pastel palette
30th May 2022
Currently experiencing a long overdue resurgence, pastel colours are finding their way back into our homes, and people are starting to opt for more bright and positive colour schemes for their personal spaces. The soft toned association people usually make with pastel colours remains popular, but we are beginning to see a bigger uptake of vibrancy come through when working with pastels and we're loving it!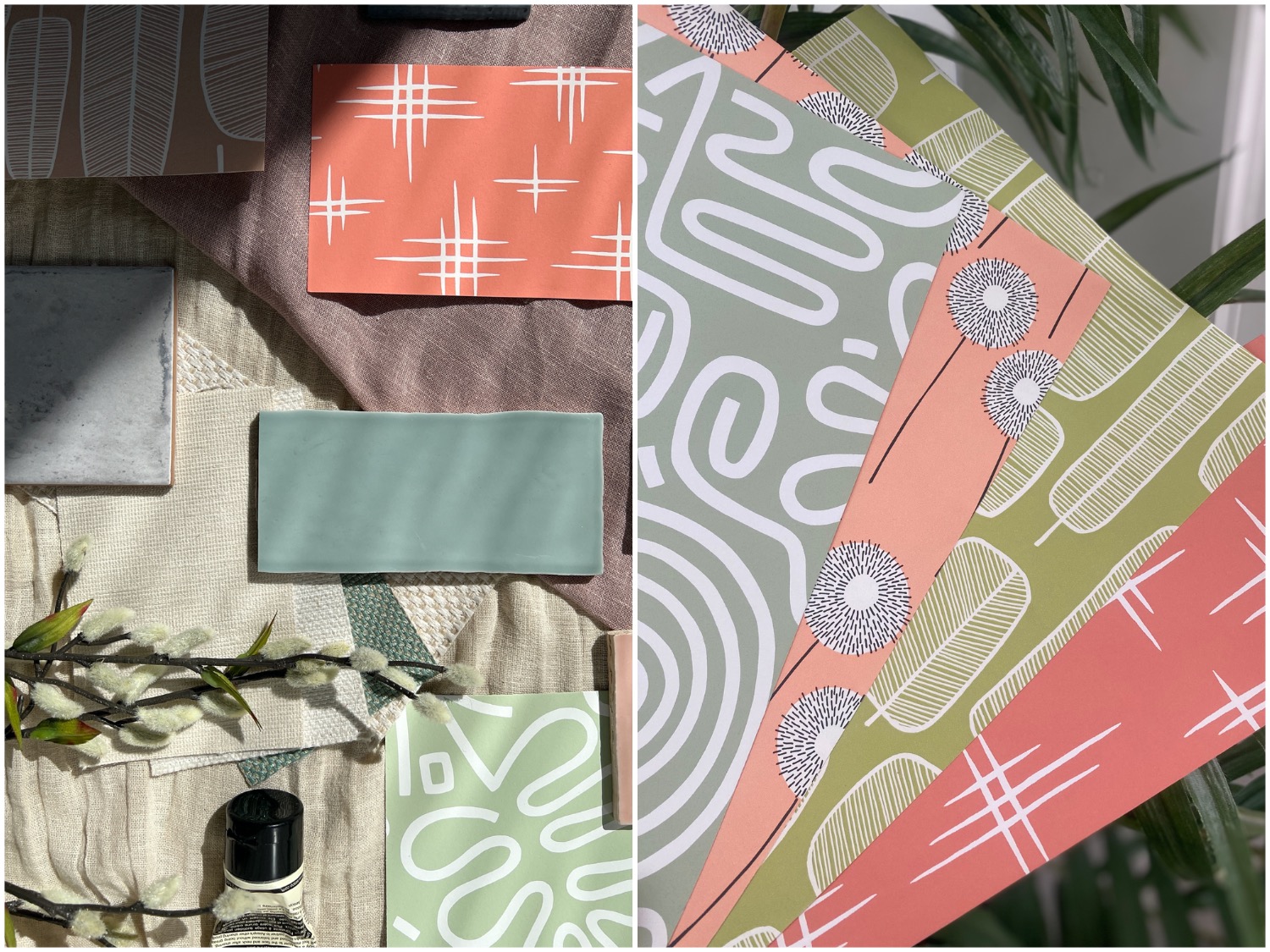 From bright terracottas to refreshing greens, our wide range of wallpapers comes in a fantastic array of pastel colourways. Inspired by the beauty of the natural world, the prints allow for intrinsic pops of colour and energy.
If you're feeling unsure about introducing vibrant pastels into your home and need a little bit of inspiration and guidance, we've put together some ways you can incorporate a bright and refreshing palette into your design scheme with ease.
Pastel Feature Wall
A feature wall allows you to explore your vibrant side without having to commit to a full pastel interior scheme. MissPrint's beautifully botanical and biophilic designs allow for pastel colours to blossom into the room naturally. Each print has its own personality to add to a room, whilst working seamlessly with existing or different interior styles.
Whether you're filling an awkward space behind the TV like @terracottadesignbuild or accentuating your fireplace like @ahouseonclumber, a vibrant pastel feature wall can be incorporated into any setting adding versatility and interest to any room.
Coordinating pastels
As satisfying as it looks, a coordinating pastel interior scheme welcomes a breath of fresh air into any space. Mixing and matching pastel shades as well as pairing them can create a cottage-like feel, and adds a pleasant touch to any room. @dalskulle has beautifully designed her bathroom using our Palm Tree Glades wallpaper, bringing a playful quirk to a practical room, boasting personality and interest.
@vanessapiskstudio has also transformed another practical space; the neo-mint green furnishings pair seamlessly with the House Plants wallpaper, projecting positivity and allowing for more valuable time to be spent in the kitchen.

@elenapiga_ has instead kept things traditional with her coordinating pastel nursery, they have used the Little Trees print in Cornflower, which allows for natural light to bounce off the walls and illuminate the room. Pastels are commonly known for their youthful association, so it's always good to see the versatility they have to offer!
Pastel Accents
If you want to incorporate more vibrant themes into your room without it overpowering other details, then pastel accents are the way forward. Our colourful designs and authentic patterns work perfectly against different interior styles and décor. The Woods Miss Penelope print that @linsaybentis has used works really well as the vibrancy of the pink is subtle, allowing for more shades of pink to be added through layers and texture. A pop of pastel can make such a difference, it transforms a muted room into a more characterful space!

Pastels are more impactful than people usually think, the vibrancy of a pastel colour scheme can either influence an interior style, or complement existing interior décor. Our prints have a lot of personality to offer, so they're a good starting point for those who want to explore their colourful side. Check out our Instagram @missprint_ltd for more pastel inspo!