Living Room Wallpaper Decorating Ideas
20th Dec 2021
Of all the rooms in the home, the living room is one of the most multi-functional. It needs to be a space where your style and personal taste is reflected but also somewhere you are happy to entertain guests, relax with family and feel at ease. Wallpaper will tie a whole interior scheme together, so it's important to choose something that works for you and your home.
From bright and beautiful patterns to focal points and feature walls, we've put together a few living room wallpaper decorating ideas to help you on your design journey.
Bright & Patterned
For those who (like us) love a bit of pattern and bold colour, consider opting for a large-scale design. Our Jungle and Deep Sea wallpapers are ideal for anyone who lives by the motto 'bigger is better'. Both nature-inspired, the eye-catching patterns will truly make your walls shine whilst adding a touch of unique style to your living space.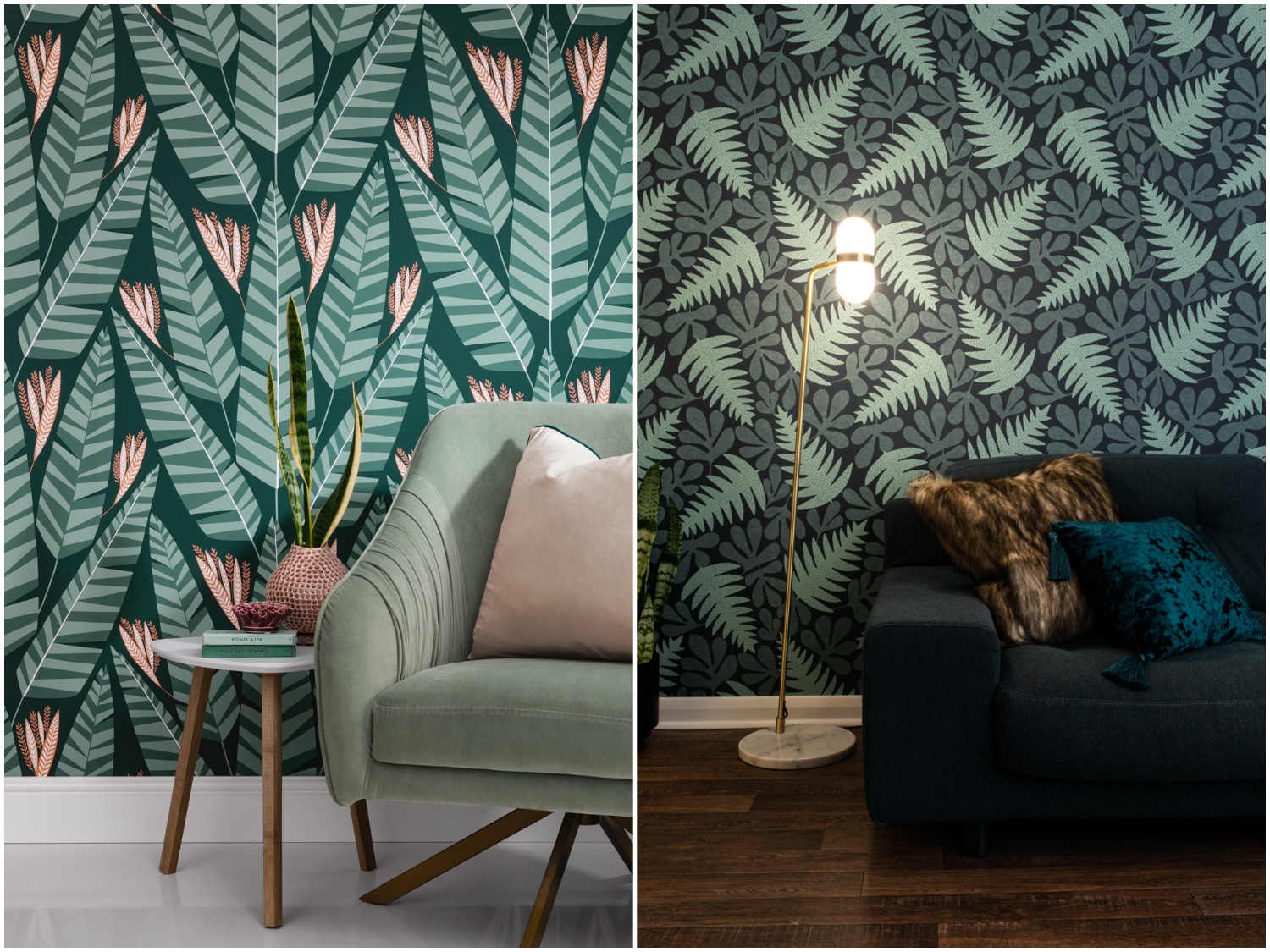 Colour can also have a fantastic impact on your overall aesthetic. A repeat pattern in a vibrant colour like yellow will instantly uplift a space and create a warm and welcoming feeling. Combine with a few mid-century modern details and you'll be on to a winning scheme.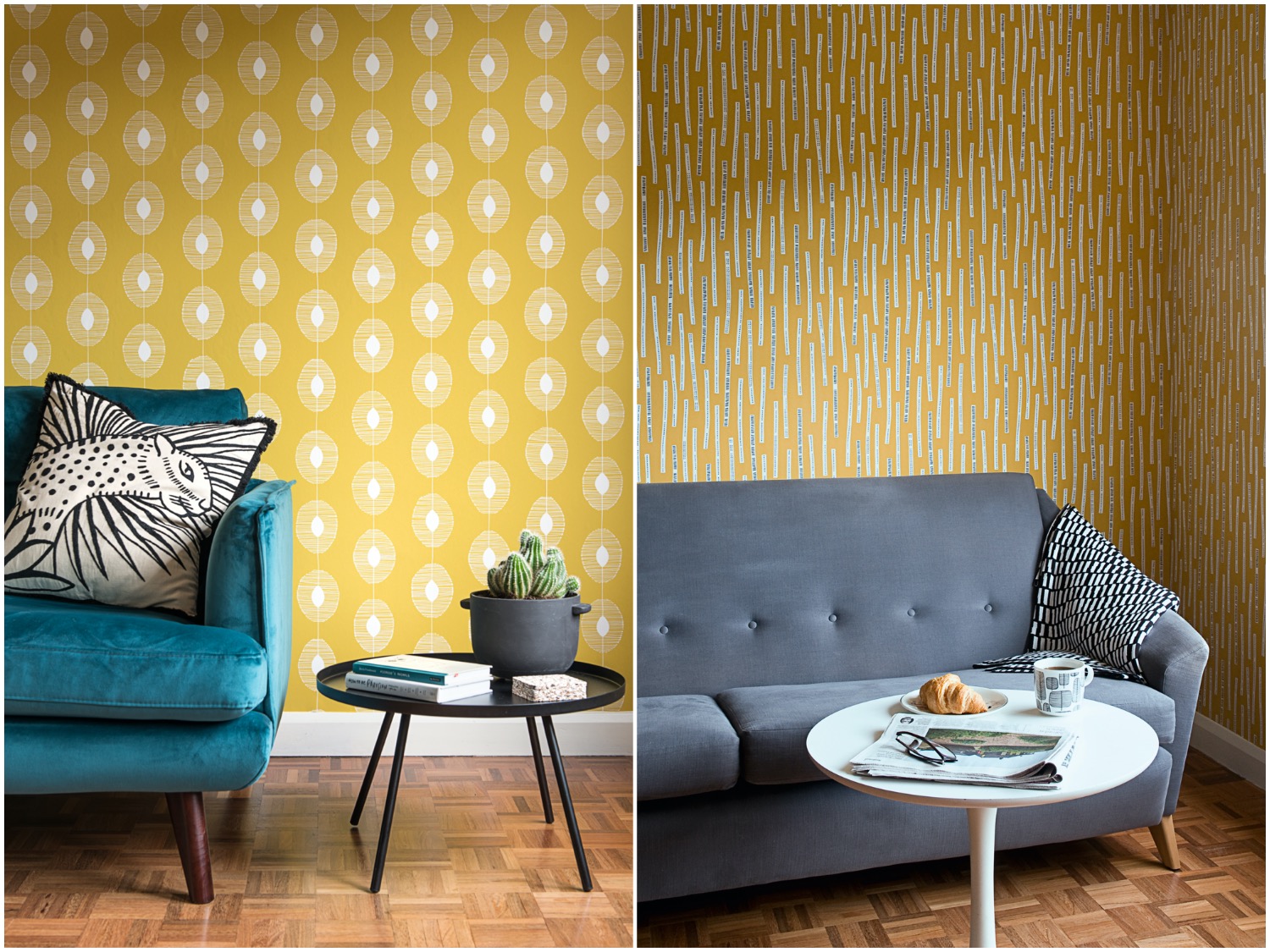 Make Your Chimney Breast a Focal Point
Often the central focal point in living rooms, the chimney breast is the perfect place to experiment with your personal style. A vertical repeat pattern will frame the wall and create a desirable feature of your chimney breast. Here, our Instagram competition winner @lil_lozface has used our Pendulum wallpaper in the Deep Sea colourway – we think it looks absolutely incredible, especially when matched with well-positioned shelving and fun accessories like lava lamps!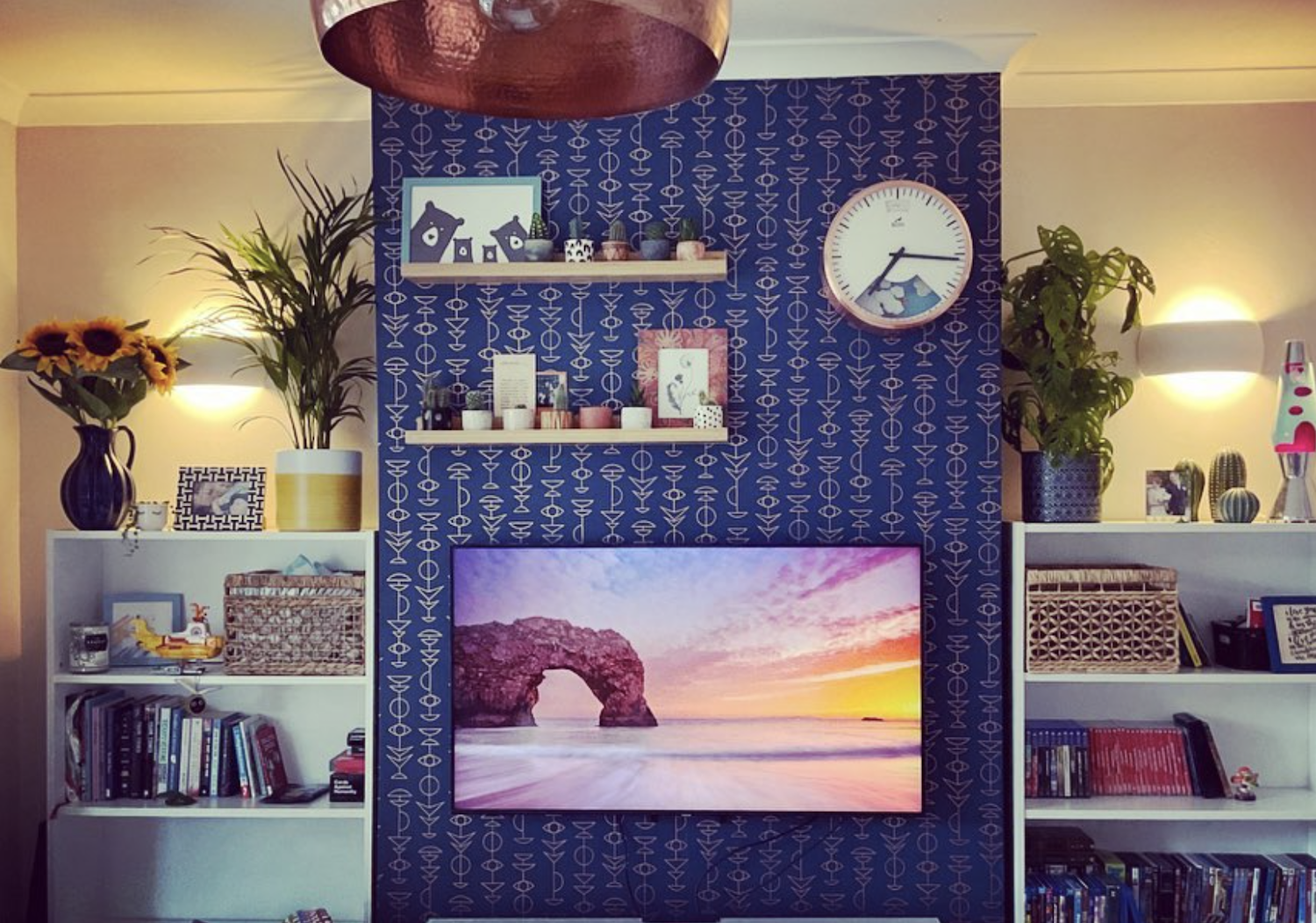 Single Feature Wall
The single feature wall has been a popular staple in interior schemes for a few years now. A feature wall doesn't always necessarily mean it has to contrast with the rest of the room, quite the opposite actually – it should fit in with the rest of your décor seamlessly and suit your overall style.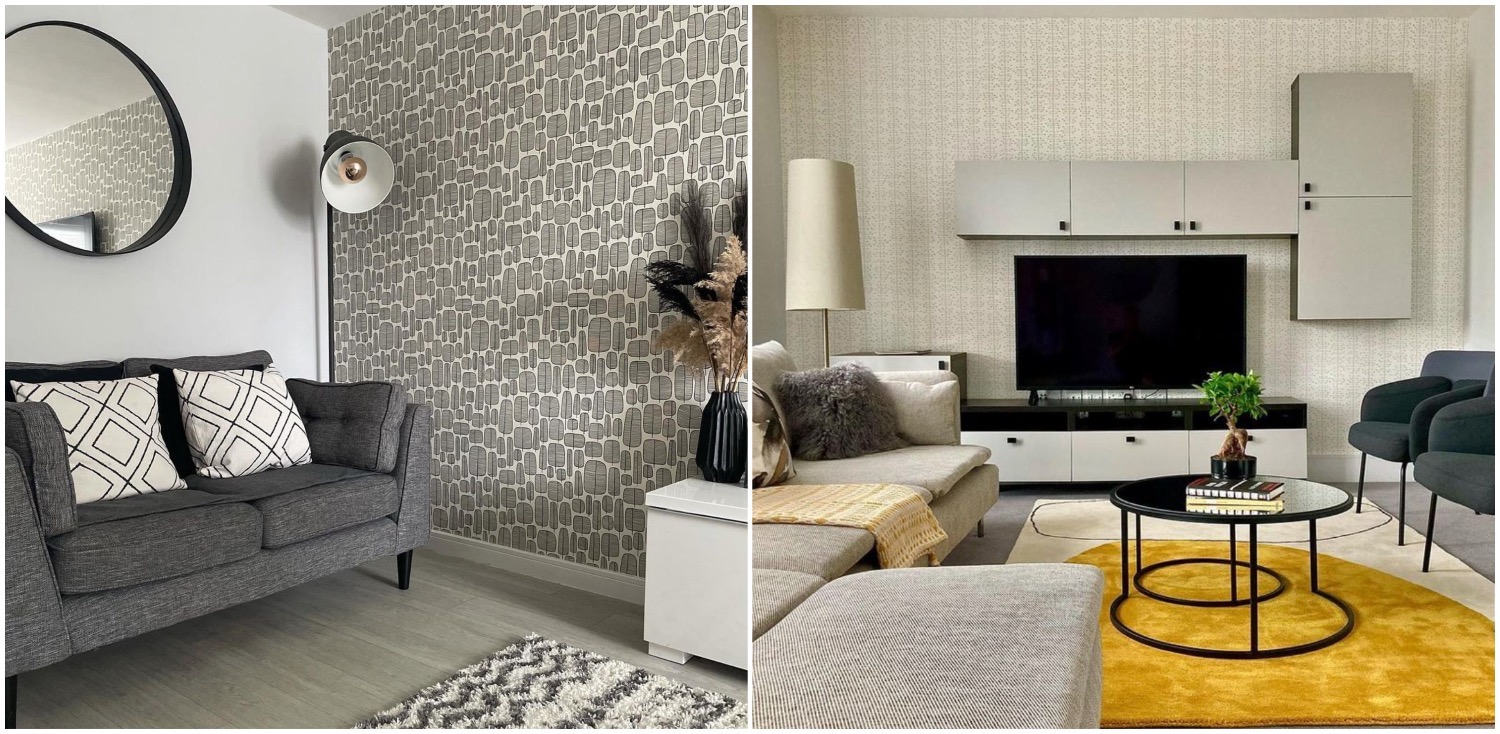 Sticking to a monochrome theme, @the_brampton (above left) demonstrates how to create an understated yet sophisticated feature wall. The Little Trees wallpaper in Monochrome couldn't fit in any better with this modern living space. Opting for a similarly subtle approach, @cranberryhome (above right) has combined a single wall of our Muscat wallpaper in a neutral colourway with a pared-back scheme, featuring pops of accent yellow. The end result is refined and luxurious with hints of individual style.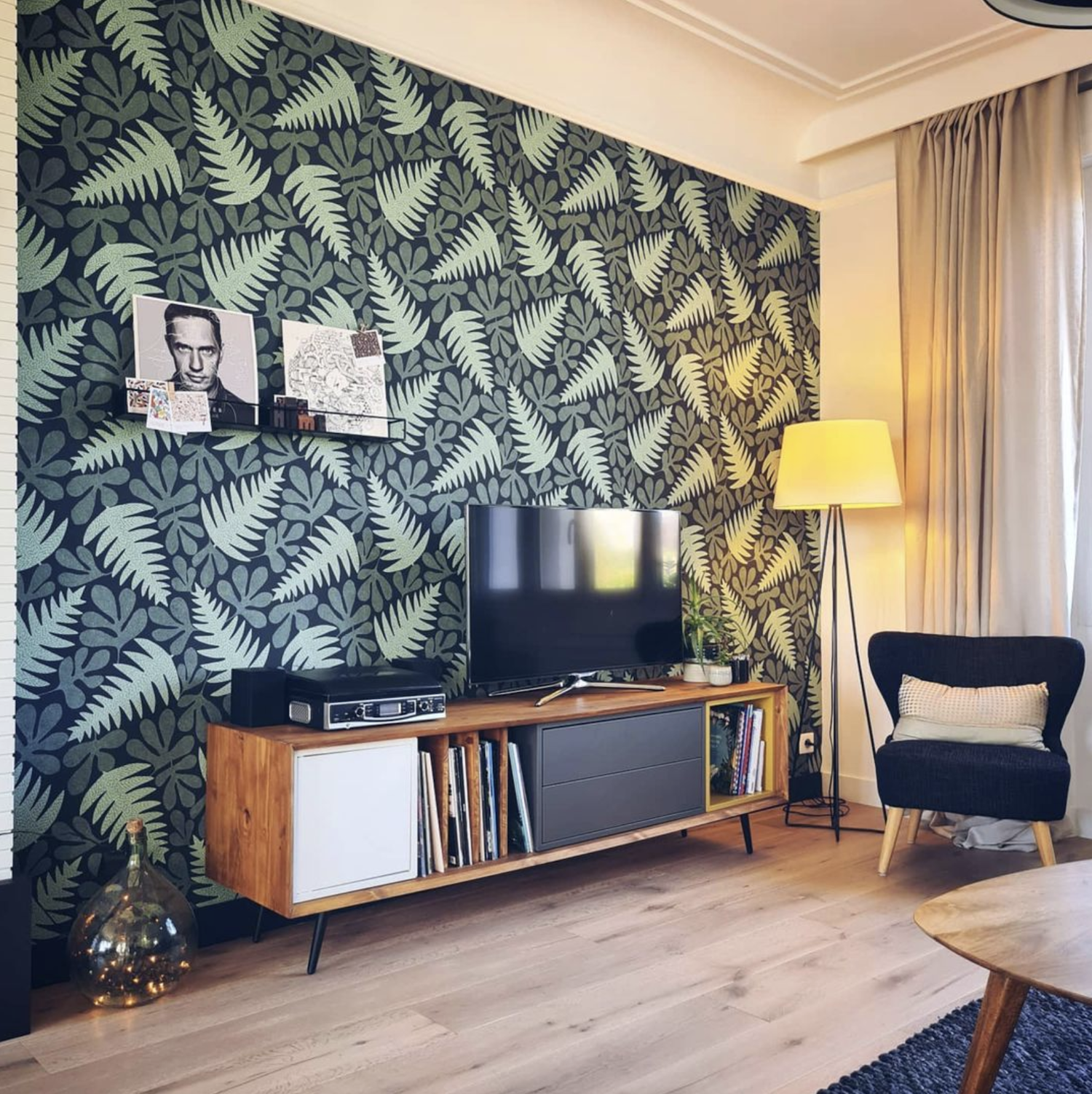 If you do want your feature wall to really pop, take a cue from @latelierdesquisses (seen above). Our Deep Sea wallpaper stands out wonderfully in this living room whilst working effortlessly with the retro touches, wood finishes and blue tones. So don't be afraid to go bold!
---
We hope we've inspired you to wallpaper your living room and shown you that there is no one way to go about it. We love to see what you do with our designs in our homes, so don't forget to tag us on Instagram in your home renovations!