New Throw Collection with Fy! Styled 3 Ways
18th Jan 2021
It's that time of year when it gets particularly chilly and all you want to do is curl up on your sofa, feeling comfortable and warm underneath blankets and throws! The perfect time, therefore, to introduce you to our latest collaboration with online shop Fy! – our 100% cotton woven throw collection!
You may remember that we unveiled an art print collection with Fy! last summer, and this is our newest launch with the company. Ideal for bringing some vibrant, contemporary colour and pattern into the bedroom or living areas, the collection is made up of 11 beautifully designed throws in some of our signature patterns.
Made to order using 100% cotton grown and woven in the USA, the collection truly captures the MissPrint style identity. From the popular outline and sunshine yellow of the Dandelion Mobile pattern, to the modern graphical designs of the Hieroglyph and Nazca, the new throws are guaranteed to suit a wide range of interior tastes and styles.
With a variety of styles and colours to choose from, we've put together three different looks you can achieve, from modern monochrome to cheerful and vibrant.
Modern Monochrome Style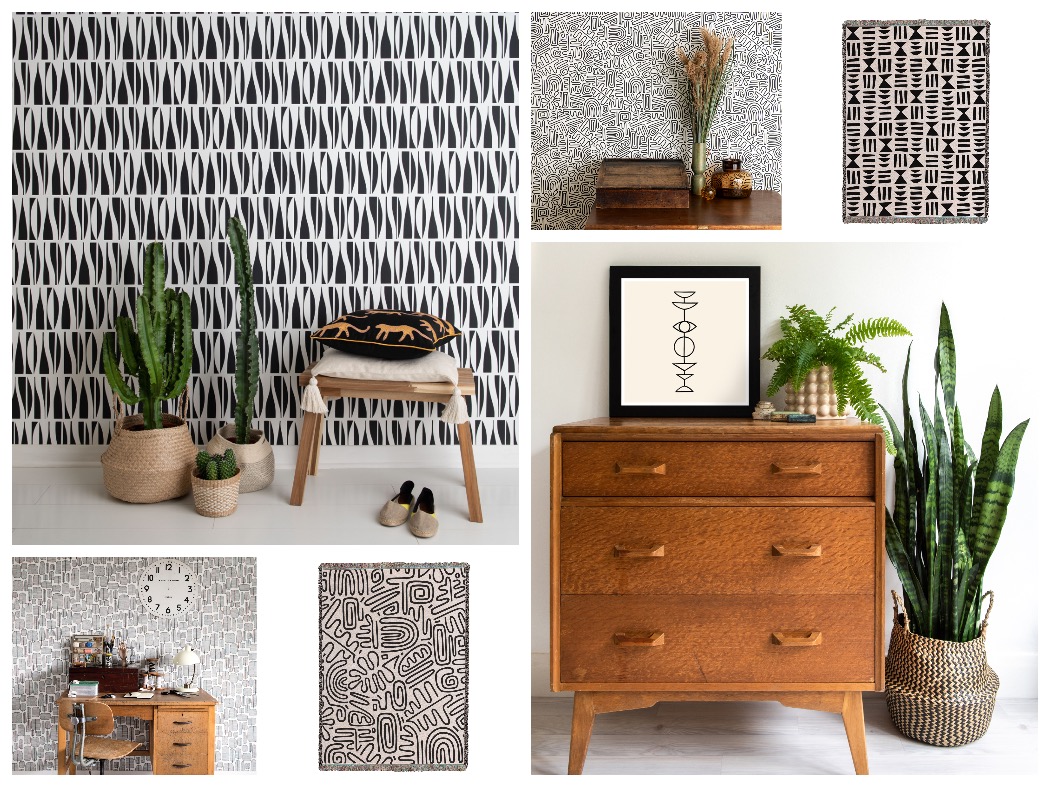 Perfect for the modern minimalist, black and white patterns and designs on soft furnishings, artwork and wallpaper will create a beautifully contemporary yet stylish scheme. Ideal for those who favour a more pared-back approach to pattern in the home, a monochrome theme is one of the most versatile directions when it comes to interiors and can be styled up and personalised in so many different ways – which is why it's so popular!
Accents of Yellow for a Happy Home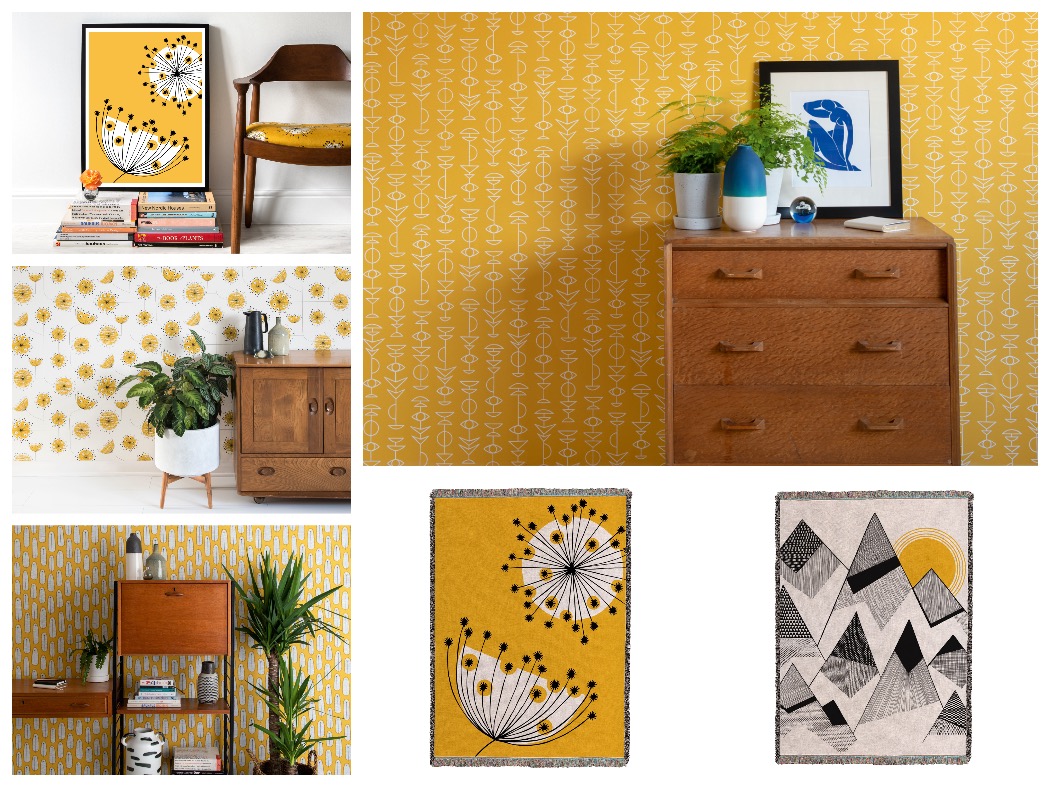 A colour that evokes such happiness and warmth, we love yellow here at MissPrint! From adding a pop of zesty colour to a neutral interior or going for full-on vibrant wall, there are so many ways this cheerful shade can be integrated into interiors. A beautiful complimentary shade to a monochrome palette or warm wood finishes, pops of yellow can truly bring a whole scheme to life and will work wonders on your everyday mood.
Nature-inspired Green Interiors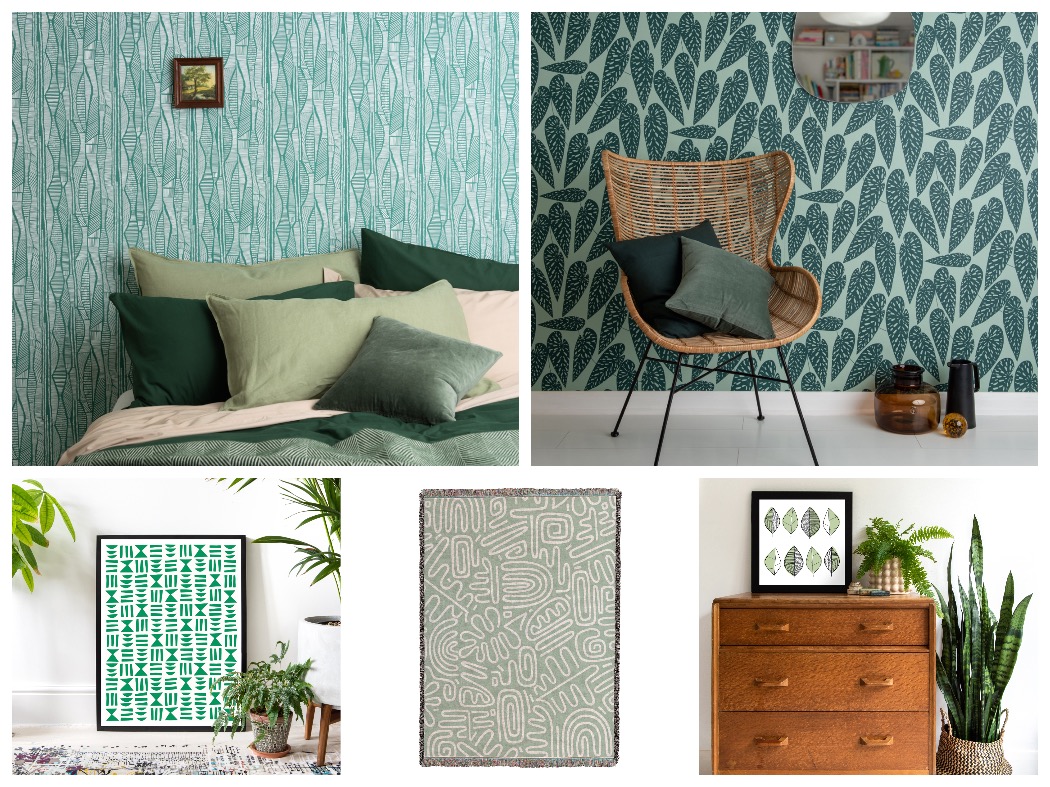 Reminiscent of the great outdoors, there's no denying that there has been a huge uplift in green when it comes to interiors. Whether it's through actual greenery (real or faux!) or through leaf patterns and sage coloured walls, green has come into our homes in a big and bold way. Our Hieroglyph green pattern, which is available as both a throw and an art print from Fy!, is a more vibrant, emerald green, whereas our Tropics Jungle wallpaper for example offers a darker and more sage-inspired palette. Green will look wonderful in any room of the house, from the walls to the bedding, and is set to remain a popular colour choice for a long while yet!
We hope we've given you some inspiration and style ideas, head over to the Fy! website to check out our art prints and throws, or explore our full wallpaper collection for more inspiration!