Trend Alert: Greek Chic
07th Sep 2022
If you missed out on a summer holiday this year, you need not worry as the Mediterranean interior trend can transform any home into the villa of your dreams. Whilst we see autumn themes and styles slowly creep onto shop fronts and shelves, cobalt blue and pure white motifs are encapsulating the last of the summer days and the beauty of Greek chic.
Mediterranean-inspired Colours
Blue and white colourways are an emblem of Greek culture and are reminiscent of clear blue skies and crystal white buildings. Combined, blue and white are also naturally soothing and cooling colours, allowing hot days to pass by with ease.
For the ultimate Greek-inspired interior, match the two symbolic colours with neutral palettes and natural materials. Our Coral Lapis wallpaper is the perfect option for this particular scheme as it captures both the colours and the coastal themes of the Greek style perfectly.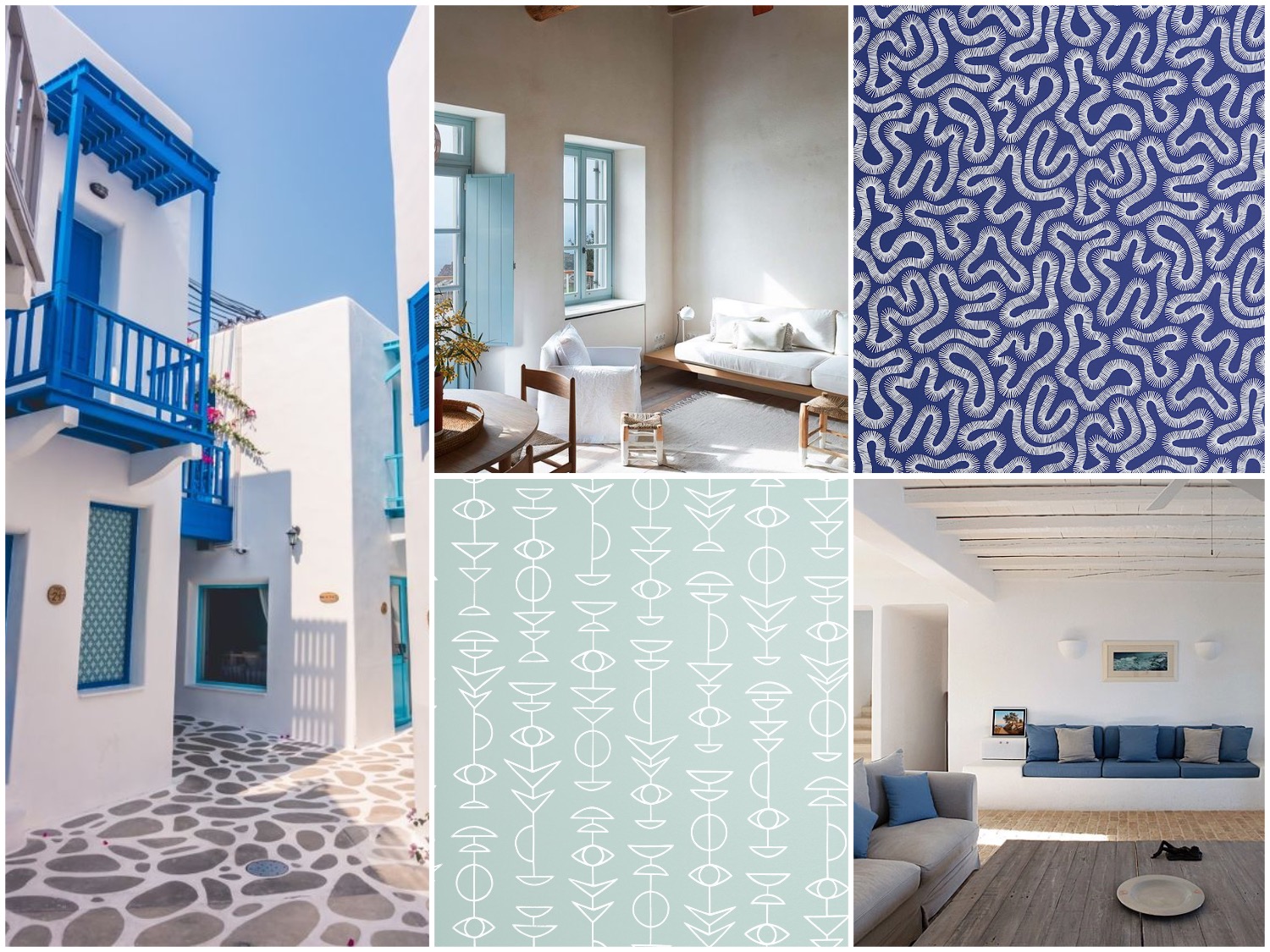 Whilst rich, cobalt blue is common, softer hues of this tranquil colour can also be seen within this Grecian interior trend. The paler colour of blue can be used to either complement the darker blue shades or work just as well on their own, pairing nicely with muted colourways or natural textures.
The Pendulum Sea Glass wallpaper is a relaxingly pleasant shade. The light blue base colour can project subtle interest to a room, providing a nice balance between both the bold white and blue shades. The pattern is also delicate, complementing the themes and style of Greek culture.
Curvaceous Furniture
From Ancient Greece to Contemporary Greece, opt for curved furniture and soft edges for the perfect Santorini-style home. Boasting luxury and elegance, Mediterranean-inspired furniture can leave you feeling like a God in your own home.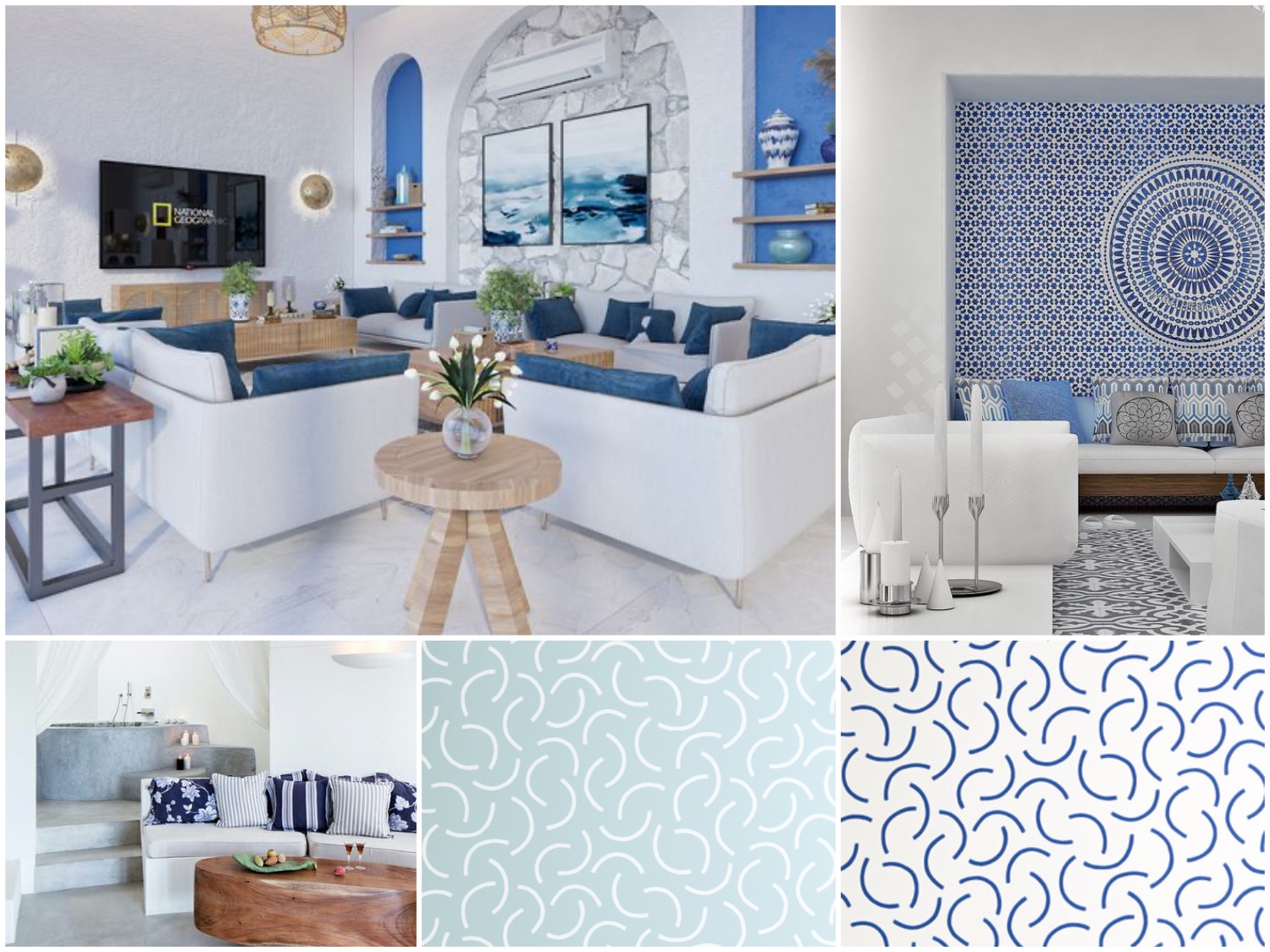 Sticking with the curved theme, the stunning Tarn Indigo wallpaper will inject an essence of Greek interior flair to any room of your home. The curved shape pattern can work seamlessly against the soft-edged furnishings and adds a pop of character to the calmness of the theme.
Greek-style Accessories
Olive trees are characteristic of Grecian culture, both internally and externally. Nearly every family home hosts a beautiful olive tree full of healthy and nourished olives ready to eat. Whilst indoor plants are a growing trend, and for the better, olive trees can especially bring that Mediterranean feel into your home.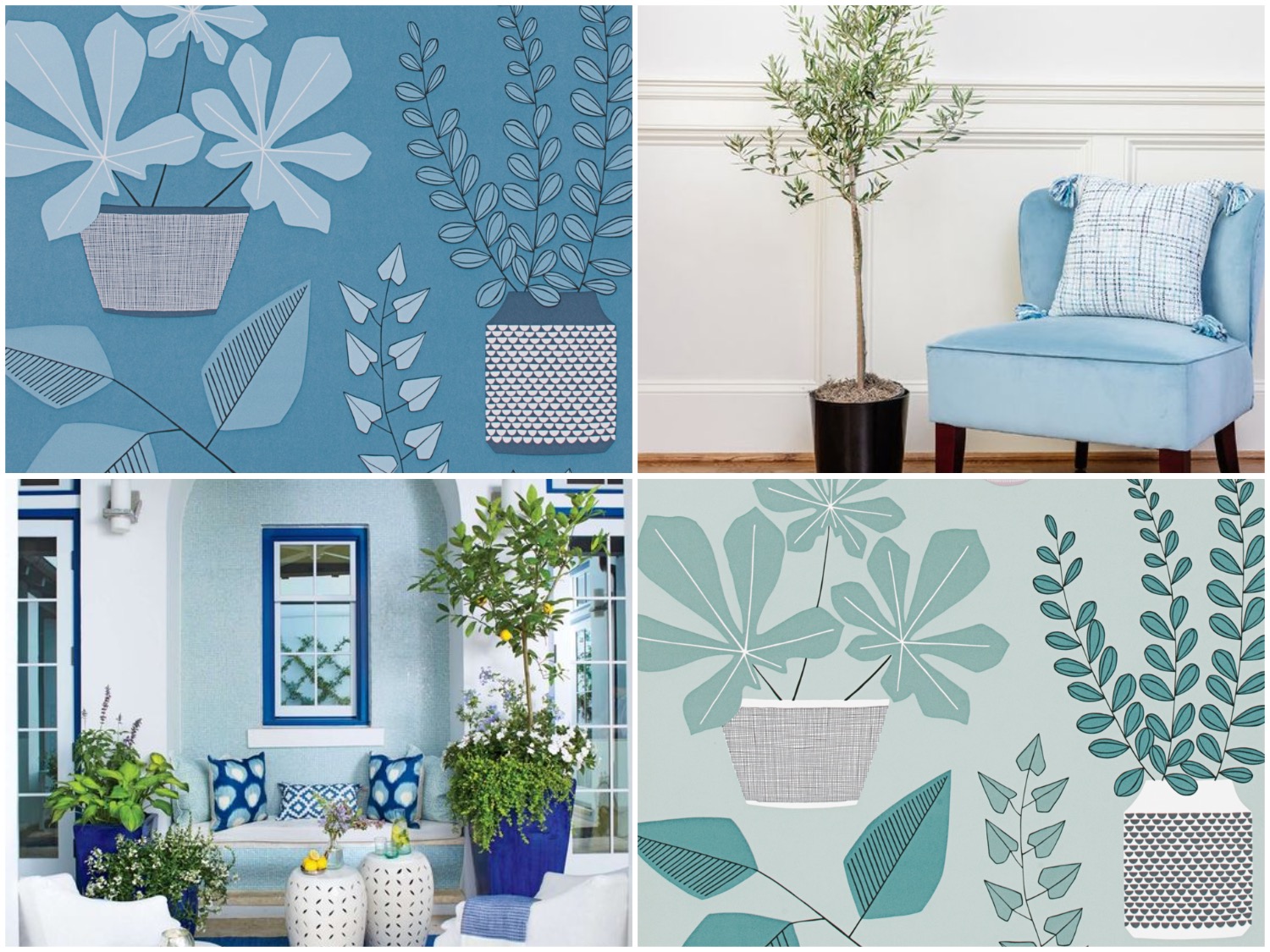 Pair olive trees with other natural plants to recreate the Mediterranean atmosphere we all crave for all year round. However, if caring for a variety of different plants isn't your forte, opt for a substitution that can provide the same effect. The House Plants Blue Room wallpaper can give that biophilic feel, complementing your very own olive tree.
Rustic Materials
The natural wood materials can be seen through textured and woven patterns in the forms of baskets, plant pots and even larger furnishings like chairs. This gives a traditional and rustic look that is typical to Grecian interior design.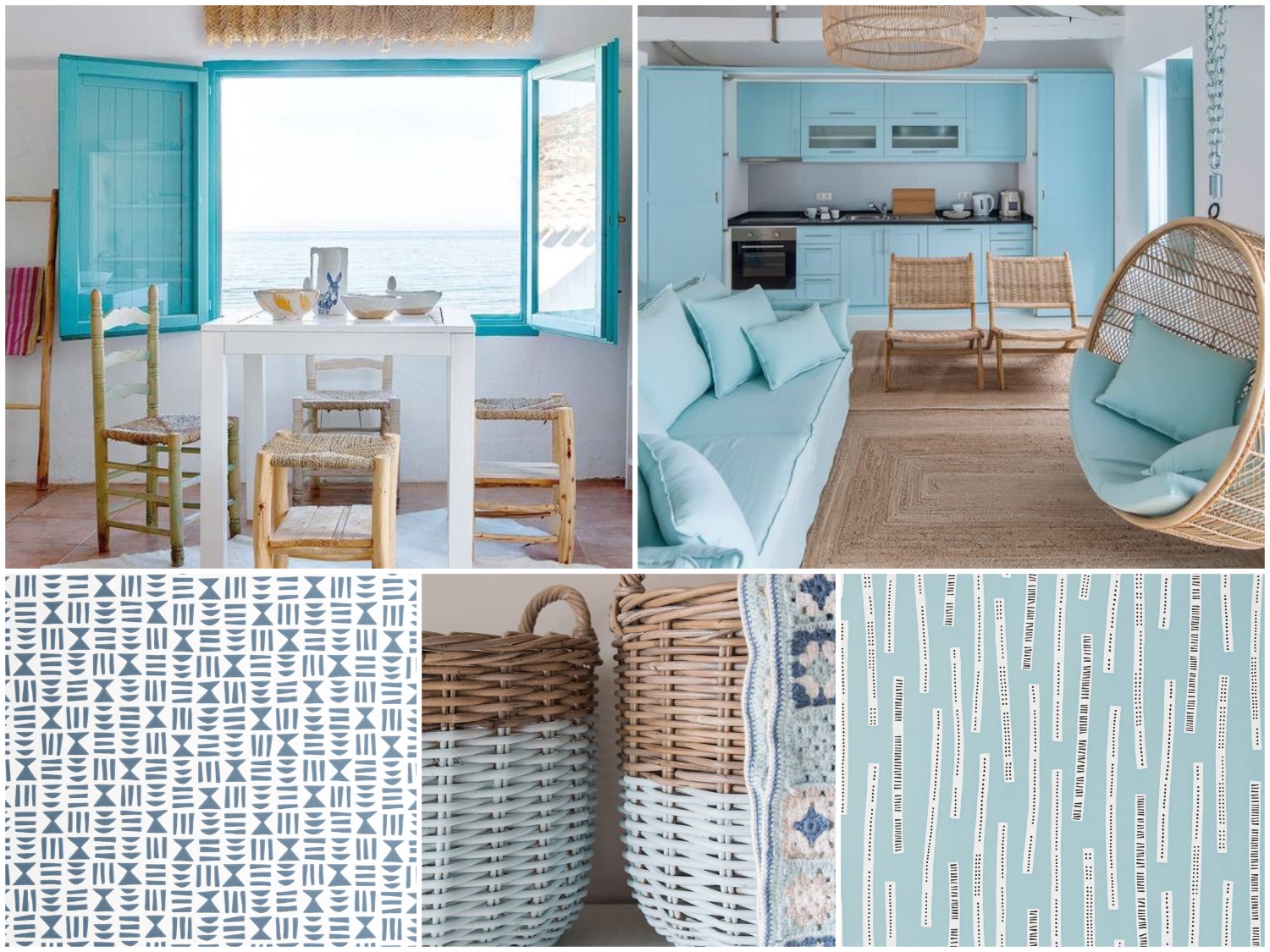 The Telegram Summer Sky wallpaper can easily be used as a backdrop for more vibrant and earthy materials. Its simplistic shapes welcome more stylised interior furnishings and accessories.
For more Grecian flavour, head over to our Pinterest to see our favourites of the Greek chic trend! If this is a trend that has inspired you, don't forget to tag us in your designs – we can't wait to see them.