Top 10 Yellow Wallpapers
16th Mar 2020
Say goodbye to winter blues and bring some sunshine into your life this spring with our beautiful collection of yellow wallpapers. From citrus hues to mustard tones, yellow is the ideal colour for bringing a hint of happiness to the home.
To help you on your way to that perfect spring home refresh, we've put together our top 10 yellow wallpapers. Whether you opt for all-out yellow or a white design with pops of the bright colour, our wide range of contemporary wallpaper is guaranteed to work in all different homes.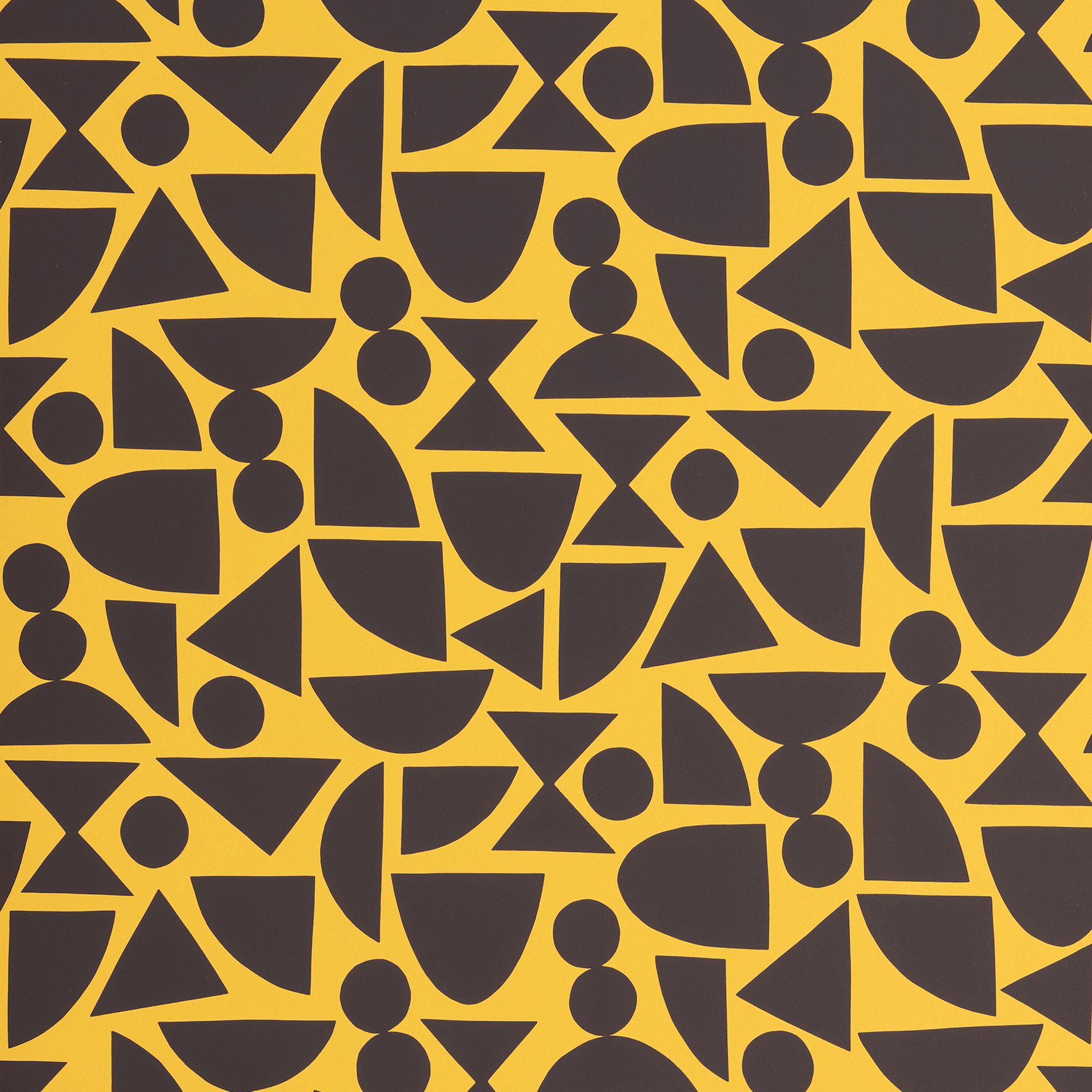 Geometric Black & Yellow Wallpaper: Shapes Amarillo
Perfect for a modern interior, the Shapes wallpaper in the Amarillo colourway brings a monochrome twist to decorating with yellow. If you want to bring yellow into your home but don't want to overpower the space, this wallpaper is a great choice. The simple black geometric shapes sit on a background of mustard yellow, making it particularly versatile when it comes to decorating with other colours.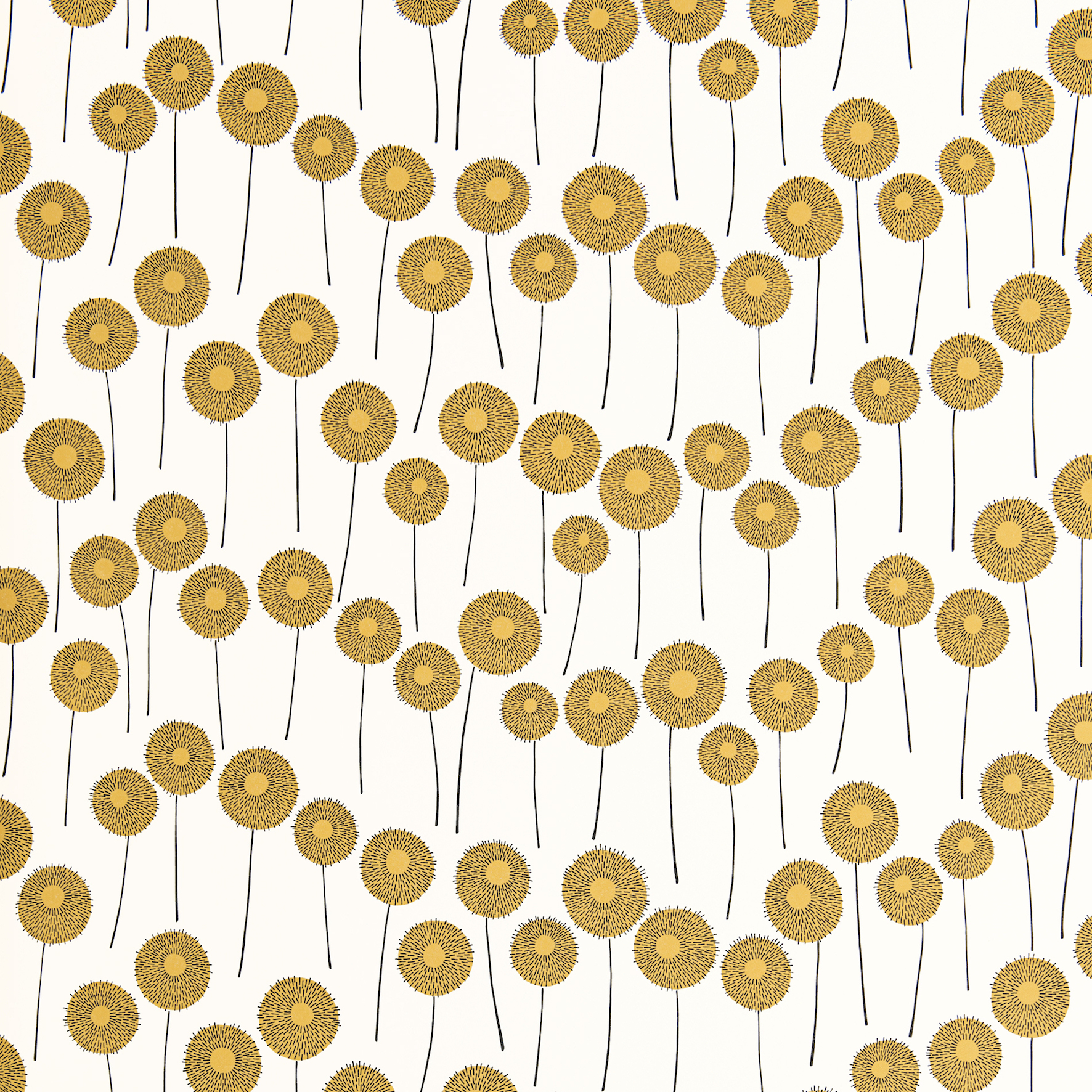 Subtle Pops of Yellow: Meadow Daisy
Made up of circular and linear line drawings, the Meadow wallpaper pattern in the Daisy colourway is guaranteed to add a cheerful glow to interiors of all styles. A white background is scattered with delicate, yellow-topped depictions of the first wildflower meadows of the year, creating a subtle yet vibrant wallcovering, ideal for those wanting to add a hint of yellow to their home without committing to an overly colourful design.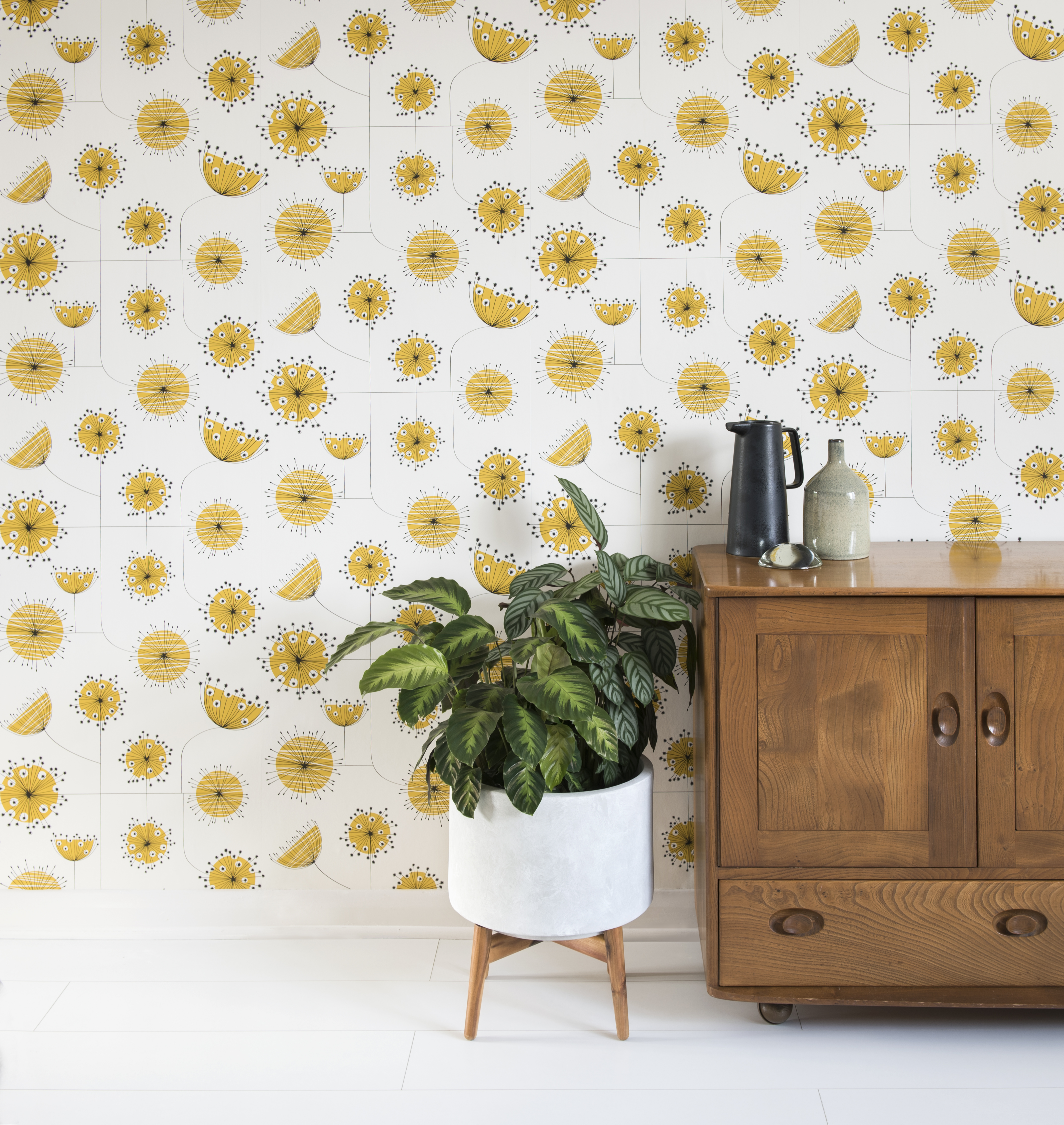 Abstract Floral Yellow Wallpaper: Dandelion Mobile in Sunflower Yellow
One of our oldest and most popular designs, Dandelion Mobile is a beautifully abstract wallpaper design that enhances and uplifts all interiors. Featuring hand-drawn illustrations of the dandelion plants, the Sunflower Yellow colourway creates a versatile backdrop to decorate from. Teamed with wood tones, greenery and white ceramics, the charming wallpaper is guaranteed to spruce up any tired-looking home.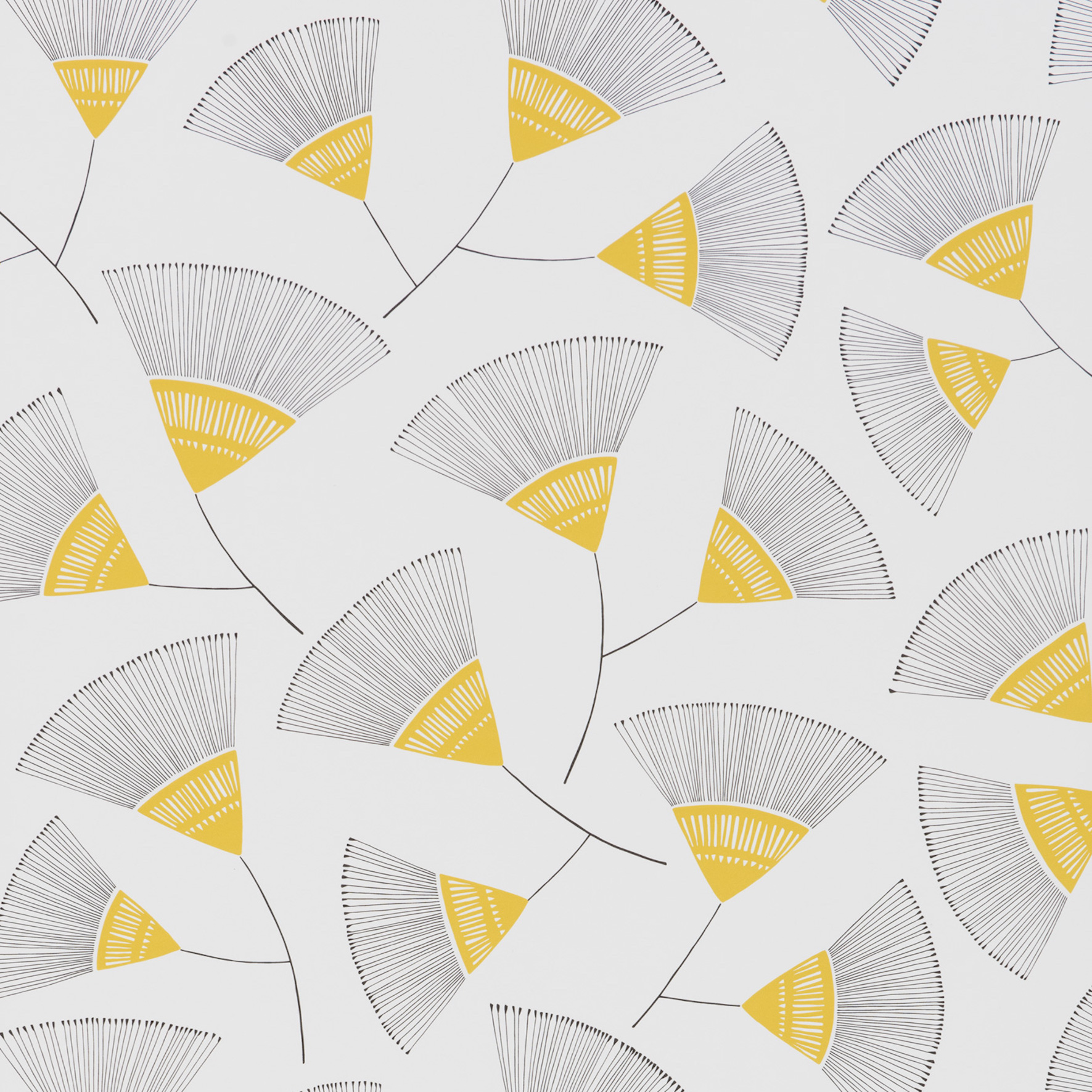 Monochrome & Yellow Wallpaper: Persia Piccalilli
Subtle pops of yellow work in harmony with a white backdrop and delicate black linear drawings in the Persia Piccalilli design to create a picturesque wallcovering. Much like the Dandelion Mobile and Meadow Daisy designs, Persia Piccalilli offers homeowners an option to bring just a hint of colour into their interior without overpowering or taking over an area.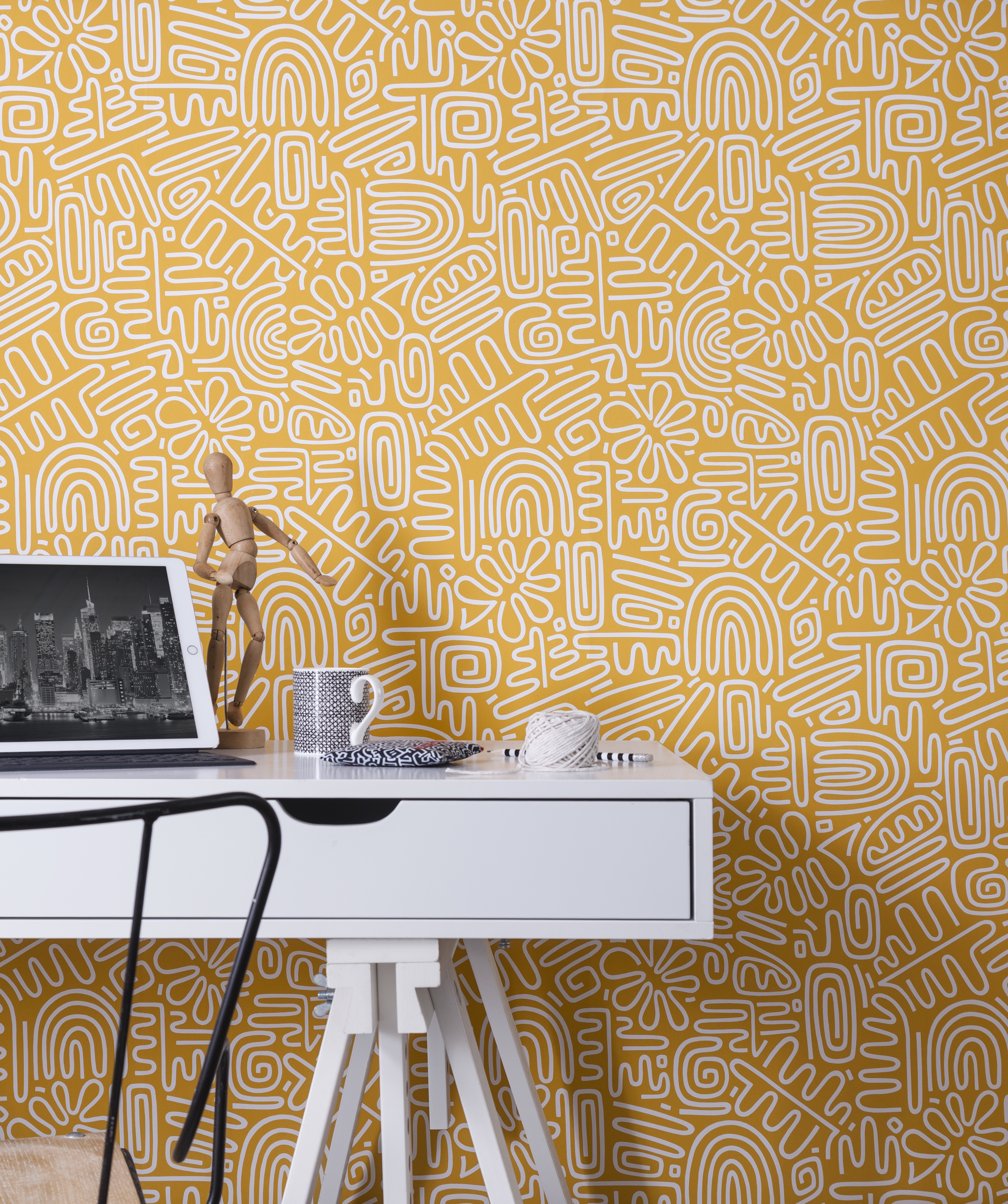 Playful Graphic Yellow Wallpaper: Nazca Desert
For a playful approach to decorating with yellow, the Nazca wallpaper in the Desert colourway evokes a true sense of fun. Perfect for a home office, the yellow background is illustrated with contemporary graphic patterns to create a visually striking statement. Team the distinctive wallpaper with modern furniture and an uncluttered approach to décor for a room that'll cheer you up every time you walk into it!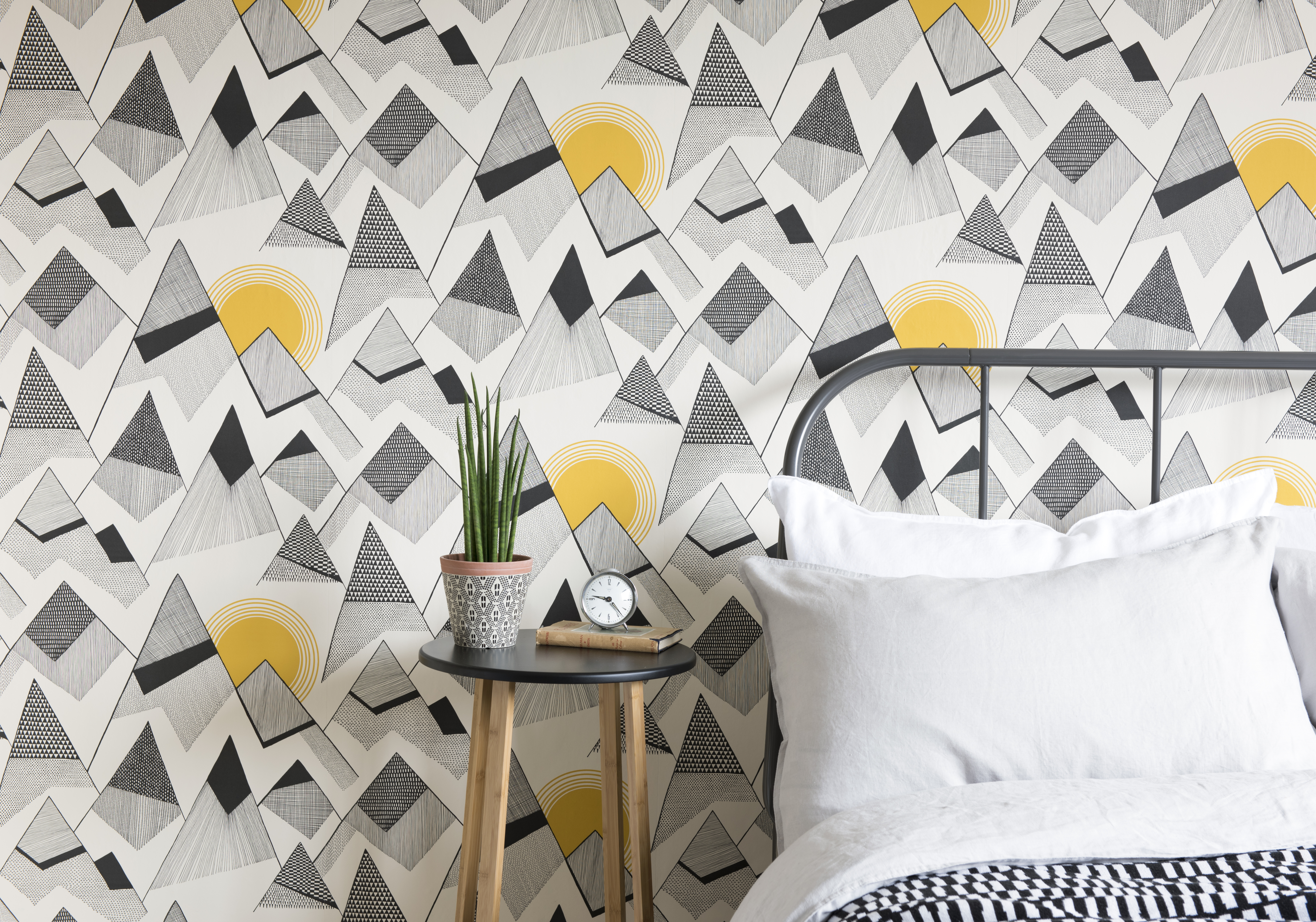 Black, White & Yellow Wallpaper for the Bedroom: Mountains Sunrise
Wake up happy with the Mountains Sunrise wallpaper. A predominantly monochrome wallpaper design, bold suns are depicted rising from the illustrated mountain tops, creating a delightfully modern and cheerful background to any bedroom scheme.

Bold & Expressive Yellow Wallpaper: Cotton Tree Sunray
Filled with expressive graphic tree illustrations, the Cotton Tree wallpaper in the Sunray colourway is a truly arresting design. Similar to Shapes Amarillo, the bold circular monochrome tree branch pattern sits on a backdrop of vibrant yellow, resulting in a contemporary interior focal point.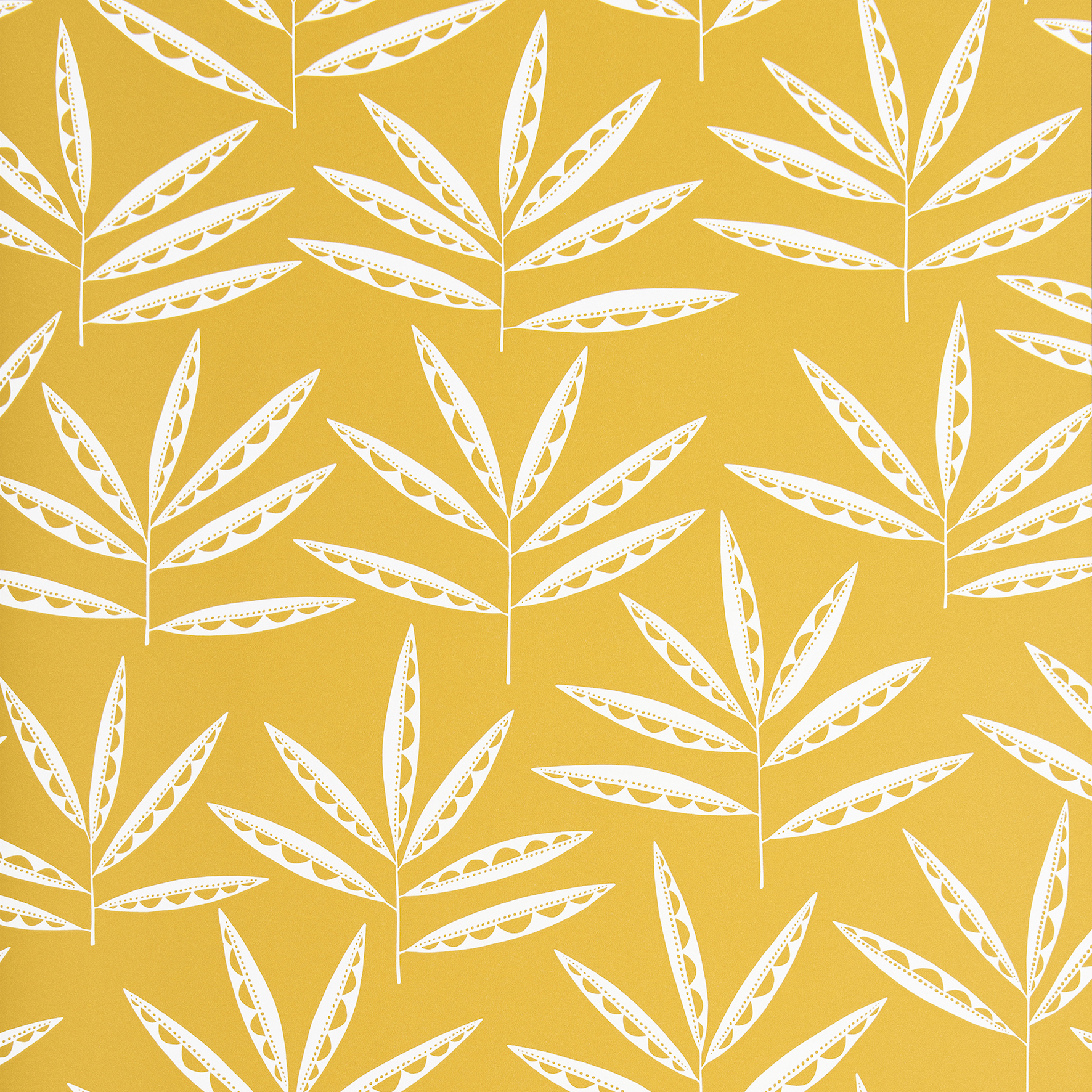 Confident Yellow Wallpaper: Pea Pods Kingcup
Bringing both nature and colour to your walls, the Pea Pods wallpaper in the Kingcup colourway is guaranteed to bring some vibrant charm into your home. Whether used in the hallway, bedroom or a small cloakroom, this bright wallpaper will inject some well-needed energy into dull spaces.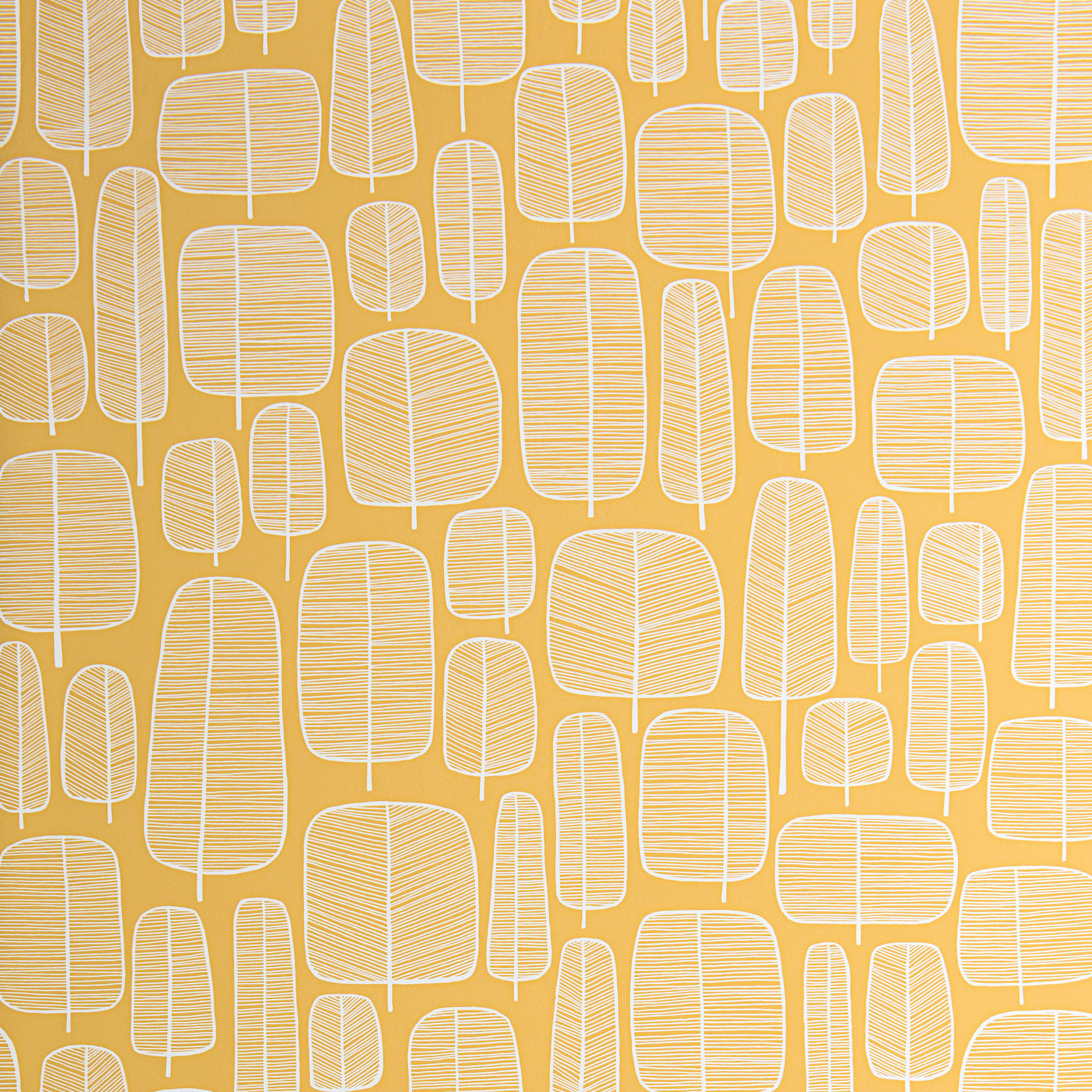 Our Most Popular and Iconic Wallpaper: Little Trees in Yellow
One of our most popular and iconic designs, Little Trees is available in a wide range of colours. A bright and beautiful colourway, the yellow Little Trees wallpaper will bring a smile to your face when you walk in the room and will work effortlessly in both contemporary and classic schemes.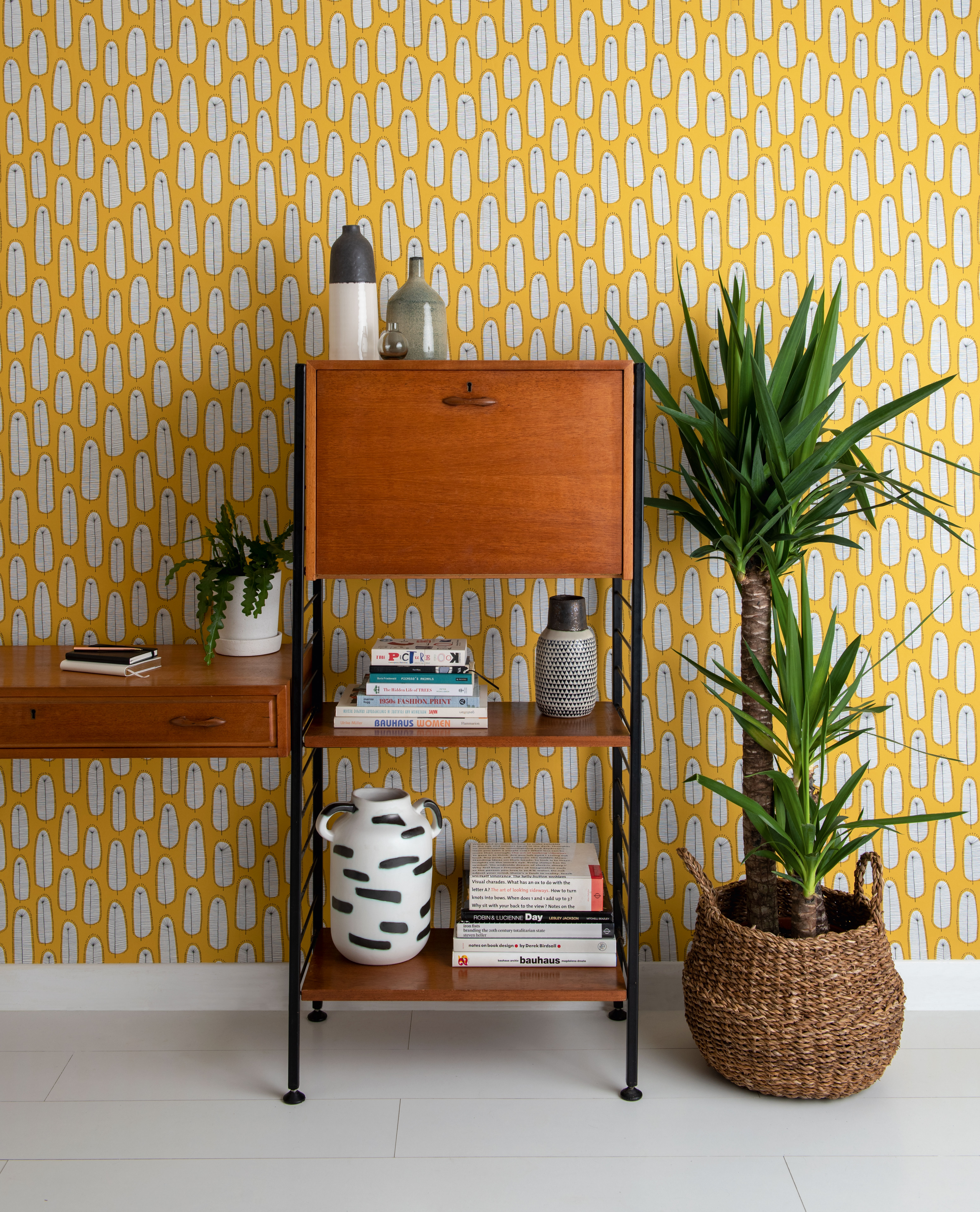 Golden Yellow Wallpaper: Bloom Blossom Goldenberry
A striking and exotic wallpaper, our Bloom Blossom design in the Goldenberry colourway will look at home in any room, from the hallway to the bedroom. Featuring a delicately hand-drawn depiction of the Australian Banksia plant, this design works particularly well when teamed with mid-century modern furniture and plenty of houseplants.
We hope we've inspired you to inject some sunshine yellow into your home this spring. Which of our yellow wallpapers is your favourite? Let us know on Facebook or Instagram and don't forget to tag us in any of your home pictures!